ACS ICT Gateway to Industry Schools Program update: Shining a light on career pathways in tech
28 April 2021
Highlights
The ACS ICT Gateway to Industry Schools Program (ICT GISP) shines a spotlight on career pathways in technology. It has been a busy couple of months for the GISP, with the roll out of events around the State. Read more about the latest program activities and how you can get involved.
The ICT Gateway to Industry Schools Program (ICT GISP) encourages partnerships between industry, government, schools and their communities to build Queensland's future information technology workforce.
The program provides an important opportunity to address the significant shortfall of young, emerging ICT talent in Queensland. The Gateway to Industry Schools program covers ten industries and is funded and supported by the Queensland Government.
In Term One, the ICT GISP provided a wide variety of initiatives for students and teachers. It should be noted that a number of ACS members have been very supportive of the ICT GISP, committing time, resources and expertise as part of the program.
We held a series of four 'Tech Talks' during the term, in which over 50 teachers gained insights into technology industry disciplines such as Entrepreneurship, Augmented Reality, Cyber Security and Artificial Intelligence. Some of these engaging presentations were delivered by ACS members, including Pauline Fetaui from River City Lab, Joeri Timmermans from BigJump and Peter Maynard from CyberMetrix.
ACS Member Pablo Farias from Zenva Academy has been a supporter of the program from the beginning. In 2021, teachers in the Gateway program have access to a term's free access to Zenva Academy, compliments of Pablo. One of our teachers is already a long-term user of Zenva which is an exceptional, on-demand learning resource. For our teachers, it will allow them to access industry-standard training for a wide-range of technologies. This is an excellent example of how tech leaders can contribute to the ICT GISP.
ACS Queensland Branch committee members Beau Tydd and Mat Eames used their extensive contacts and powers of persuasion to gather a group of over 20 tech and business leaders from the Gold Coast for a networking lunch at Hillcrest Christian College. Five Gold Coast schools were also represented, and attendees heard from students and teachers about the need for tech industry support in schools.
As a by-product of a conversation at the lunch, Saint Stephen's College's Greg Wilkinson and Virtual Manager CEO Anil Patel combined to develop a 'Girls in ICT' event at SSC on Thursday 22 April. The ICT GISP was able to help organise a variety of female speakers:
· Catherine Newington, ICT Educators' Specialist, ACS
· Marayka Chen, HP Device Specialist, Data#3
· Chelsey Costello, Cyber Security Professional Recruitment, Talenza
· Georgia Rissman, Global Human Resources Director, Virtual Manager
· Ann Stevens, Lecturer of UX, Games & Interactive Design, TAFE Qld and Southern Cross University
· Ashleigh Ward, Computer Technician, Insane Technologies
· Adeline Martin, Cyber Security Operations Analyst, Origin and AWSN
· Fahimeh Alaei, Lecturer in IT, Southern Cross University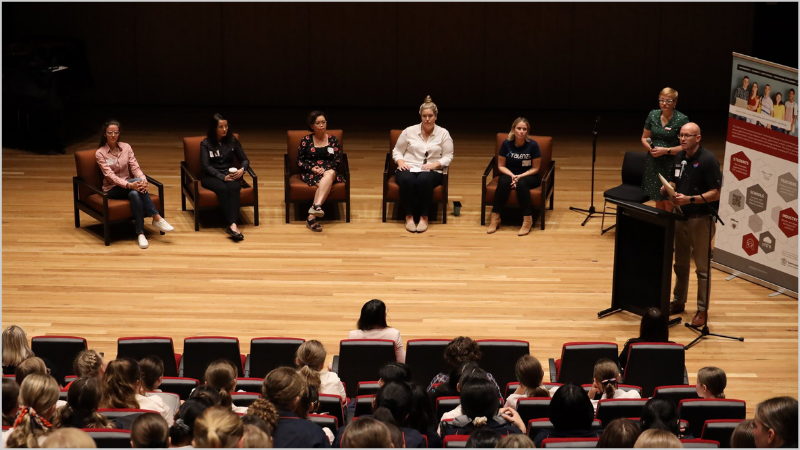 The morning's presentations were attended by over 120 female students who were treated to motivating stories of pathways and careers in technology. The 2020 Digital Pulse has identified that Female participation in ICT has remained unchanged from the previous year report at 29%, and events like these encourage girls to consider a career in technology and identify with female role models.
In the afternoon, Catherine Newington from ACS ran workshops promoting STE(A)M and game-making using coding.
Providing students with skills that are valued in technology roles is another function of the ICT GISP. Renowned educator Dr Damien Kee has a Ph.D. in Robotics, a Bachelor of Electrical Engineering and was previously the Forum Chair for the ICRA2018 - Robotics in Education forum. Dr Kee delivered a student training day at St Brendan's College Yeppoon, focusing on Arduino skills and robotics. This was an excellent training opportunity for students and teachers alike.
There are more events and initiatives taking place this term. Any ACS members who would like to contribute to the ICT GISP are welcome to get in touch to find out more. The only commitment required is time and expertise.
Keen to get involved and lend your support to the ICT GISP as a tech industry professional or organisation? Please reach out to GISP Project Manager Matthew Jorgensen at matthew.jorgensen@acs.org.au to express your interest.