Introducing NSW BEC member – Cindy Chung MACS
Highlights
Cindy Chung MACS is the current elected NSW BEC Vice Chair, she's started her term in January 2023.
Cindy shares with us what she enjoys about the tech industry, keeping up to date and what she has got out of her ACS membership.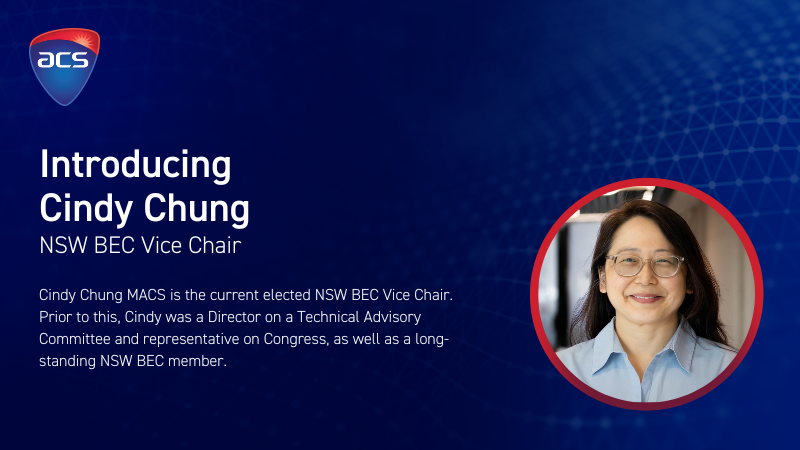 What do you enjoy most about working in the tech industry?
There's always a sense of newness in this industry. It's a chance where a lot of those involved can apply creativity, technical excellence, and multiple skill sets to opportunities out there.
What is the key piece of advice you'd give to your younger self?
It's not all about you. When you work with people who behave incongruently, step back and assess. They have a personal agenda, observe when to make your own move.

Tech changes fast. How do you keep your tech skills up to date?
From day to day speaking, I'll peruse newsletters for opinions and observations on current topics. I'm fortunate at work where there's a culture of continuous learning so I try to catch learning opportunities there. I enjoy catching up with people who are venturing to try something new for themselves using technology. I also enjoy structured courses for a deep dive.

What is your greatest challenge as a leader/ business owner?
Timing. Technology expectations can feel misaligned.

How has ACS membership supported your career journey in tech?
I'm just a small part of the greater good when I'm involved at ACS. Being a member of our professional body pulls my thinking back to tech. This is a considerable factor in why I'm still in the industry as it's a chance for me to serve others. Otherwise, I may have veered off since I like exploring ideas and sometimes they can go awry!