Introducing NSW member - Sreelekha Bobbili
Highlights
Sreelekha is the Engineering and Product Leader at Woolworths and has over 15 years of experience in the IT industry. Sreelekha shares her insights on how to grow your career in IT.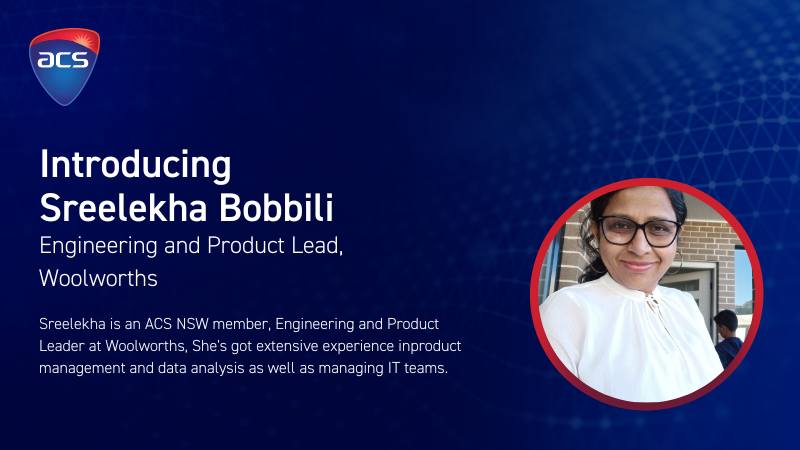 From Data Analyst to Tech Manager, what led to the development of your career, and how did you know how to make the right choices?
When I graduated with my bachelor's in technology, I decided to start my career as a Data Analyst. I believed this was where I could have an impact. After moving to Australia from India, I spent a few years settling in, I was very focused and committed. I believe it's essential to care about what you do. Find your purpose and the reason for pushing things. As for myself, after about 7 or 8 years of thriving in my role, I believed it was time for me to evolve and get to the next step so I let my management know. I encourage all professionals to be proactive in their career progression as it will rarely come from someone else to get a promotion.
You say you're a continuous learner – what are your tips to keep learning?
I start from the standpoint of 'what is it that I need to learn to stay relevant, from my job perspective?' Constantly reading is a big one, journals, articles, books… I also learn a lot from my community and the people around me. I make sure I'm surrounded by people from different cultures, ages, backgrounds… Information is everywhere, it's about recognizing what is relevant to you, by asking yourself, "what am I lacking?".
On the topic of learning - what do you believe is the most valuable lesson learned in your career?
It would be to work on your self-confidence and not doubt yourself. As students in the academic world, we were used to working hard and getting rewarded with good grades. In the professional world, people will rarely tell you you're doing a great job. It's up to you to back yourself up and be your own motivation. I also believe you can be the change you want to see in the world, so make sure you find an opportunity to appreciate the work of people around you.
Views for the future – what are some spaces you've been watching and what are you most excited about for our industry?
Definitely AI, and specifically how it will be applied to help the underprivileged. It brings
so much day-to-day value to many fields, most importantly medicine and education. I encourage any IT professional starting their career to ensure you read, learn and understand it so you don't feel left out. ACS Learning Accelerator is a mine of information and the perfect tool to use.