Introducing NSW BEC member – Lucy Lin MACS CP
Highlights
Lucy Lin MACS CP is currently on the NSW BEC. She started her term as Vice Chair in January 2023.
Lucy shares precious tips on maintaining a thriving career and how she's been benefitting her ACS membership.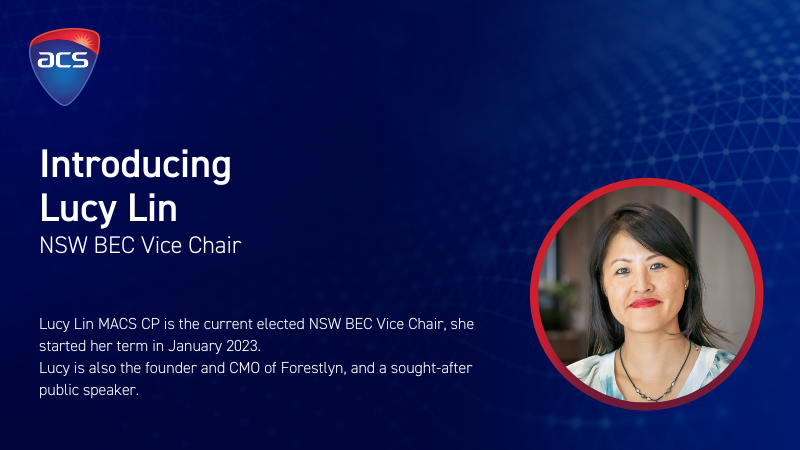 What do you enjoy most about working in the tech industry?
I enjoy seeing how fast the industry changes and all the new and emerging technologies that are coming out - it means that new things are constantly disrupting old ways of working, and I enjoy the challenge of needing to change and adapt my behaviour and mindset in order to keep up.
What is the key piece of advice you'd give to your younger self?
"Don't be afraid to take a chance, live your life to the fullest and trust that everything will turn out okay".
Tech changes fast. How do you keep your tech skills up to date?
I read a lot, I listen to a lot of podcasts, and I attend a lot of events to learn from others. Currently, I am enjoying using Chat GPT and DALL-E and incorporating these tools into my professional and personal workflow.
What is your greatest challenge as a leader/business owner?
Not enough time in the day to do everything! I am always open to tips to become more productive. I am highly organised, I write a lot of lists, and I embrace the Pomodoro time management technique, it's the best!
How has ACS membership supported your career journey in tech?
The strong relationships with fellow members at ACS have been fantastic. I have met people who I have considered to be my mentors, mentees, potential clients and friends, and my career in tech and business has benefited immensely as a result.