Introducing NSW member – Chaido Kiourkou
Highlights
Chaido Kiourkou is an ACS NSW member and the Chief Operations Officer of the Australian Institute of Business Intelligence.
She's got extensive experience in management and is sharing her tips on how to manage relationships in business to ensure continuous improvement.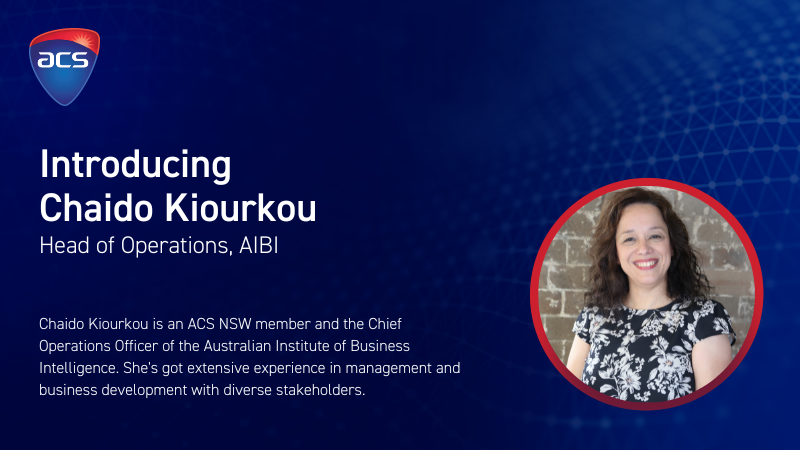 You started your career as Operations Manager and you've upskilled all the way up to being now the COO (Chief Operations Officer) of your company. – What are the skills you had to develop to assist this career journey?
I made sure I remained alert and agile to stay in touch with all aspects of the business. You can't be rigid or slow in an industry that's moving so quickly. You're constantly adjusting to new ideas and technologies. You also have to be open-minded and put yourself in other people's shoes. It's very important to view things from all stakeholders' viewpoints. I aim to lead by example, so I'm always ready to answer questions. I also make sure I listen a lot. Monitoring and observing a situation before making a decision allows me to have a more holistic approach to my decision-making.
What aspects do you believe are the most important in a team, and how do you help your team follow them?
I believe it's essential to educate yourself all the time. New trends are created overnight and you must stay up-to-date and relevant. To ensure everyone is included, a team needs to decide on its 'Why'; have information synchronised; and have processes set in place.
Many professionals don't know their potential or don't realise it. It's very important for me as a leader to give them opportunities to realise and fulfil their potential.
What is the biggest challenge you've faced in your career?
It's probably managing and guiding people at mid to senior levels of their careers. These team members have been set in their ways and to certain ways of doing things. There's also a fear of being redundant so they often see technology as a threat. It's important to include them as a part of the strategy and the vision of their business.
What do you believe professionals should focus on in the years to come?
It's essential to focus on currency, making sure whatever you work on, you're up to date with the latest trends. It's also important to make sure technology is available to all, even communities who might still be reluctant to use it. I've been volunteering to support elderly people in using technology and I've been finding it very rewarding.