Introducing NSW member – David Allen
Highlights
David is an ACS NSW member and a long-standing business and government advisor.
He's been focusing on Ethics and Governance as well as risk management for diverse ICT businesses.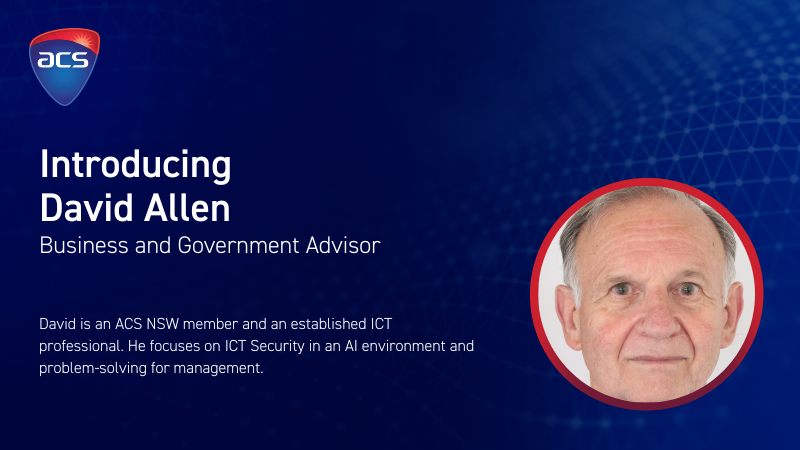 How would you describe innovation in Australia now, and what do you believe it needs to grow further?
Innovators in Australia are producing excellent results in fields such as quantum computing and hydrogen energy. Hopefully, useful products will be created in each of these areas. Every innovation splurge is historically followed by a consolidation phase in which cost-effective products are created.
More and more businesses are including ethics in their governance, including ethics committees on their boards and as part of their strategy. What are some of the most important aspects to keep in mind when dealing with ethics in the ICT industry?
The definition of ethics may be slightly different for each type of business. For example, banks need to ensure that customers can be confident that their deposits and payments are secure and therefore governance needs to set rules for settlement and other high-level transactions. Climate Change specialists need to ensure that the environment is being protected and that emission levels of greenhouse gases are being reduced. Maths is the key to Governance and Ethics. Customers do not expect to be surprised by reports that their Bank cannot meet its financial obligations.
Relationship in business and within a team is a core element of the success of a project. What are your tips for a thriving relationship between stakeholders?
Empathy is becoming more important and features more frequently in job advertisements. ICT development tends to be more successful when team members feel appreciated. I've never lost a team member and my projects are generally successful. Steven Hawking said he was a clever fellow because he discovered Roger Penrose. It may be an option for up-and-coming IT workers to check what independent experts are analysing. Books are excellent as they are usually peer-reviewed.
What is the space you've been watching and you believe ICT emerging professionals should be focusing on?
Governance and Ethics have always been important in my innovative work. I discovered that people are easily bamboozled by large numbers that suddenly appear on computers. I then developed a Matrix Approach for creating new IT functionality that put Business Users and Governance in control. I also focus on Education and Security standards in Australia. I believe Aussie Innovation and Maths should be addressed with the younger generations.
I also take interest in how human intelligence is required to incorporate new rules into computer programs when unexpected situations occur. Computers play games like Chess at an excellent level because all moves that are available can be pre-calculated. This is not always possible in real-life situations and people tend to be smarter than computers when unexpected situations arise. Sudden storms and market crashes may be examples.