ACS Western Australia Emerging Professional Committee - Olivia van der Kroon
9th October 2023

Highlights
Recently elected as the WA Emerging Professional Committee Chair.
Olivia's journey in IT is one of perserverance, self belief and a committment to making a positive social impact by bridging the Digital Divide and empowering women in IT and management roles.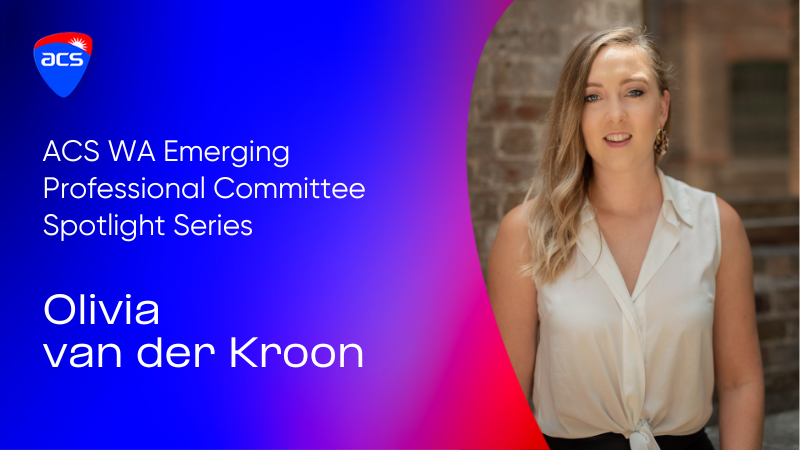 What motivated you to join the Emerging Professional Committee?
I saw the Emerging Professionals as an opportunity and platform to understand, educate (myself), and be an advocate for supporting change by promoting women and female leadership within the IT community. Additionally, I am dedicated to advocating for increased accessibility, diversity understanding, and empowerment within the IT industry, especially for people with disabilities.
How do you envisage the Emerging Professional Committee making a positive impact on its members?
I envision the Emerging Professional Committee making a positive impact by educating and promoting specific subjects that the committee are passionate about, including other International and National topics. The committee serves as a platform for driving positive change in these areas where possible.
In your opinion, what are some of the most pressing challenges facing emerging professionals in the IT industry, and how can the committee help?
The most significant challenges facing emerging professionals in the IT industry are the lack of diversity in leadership roles, limited accessibility for individuals with disabilities, and the need for greater awareness of diversity issues. The Emerging Professional Committee can address these challenges by promoting diversity within the committee itself, enhancing accessibility through advocacy and awareness, educating professionals on diversity within leadership, offering support and resources, and advocating for emerging professionals' needs within the industry. In doing so, the committee can help to create a more inclusive and supportive environment for IT newcomers and trailblazers.
What advice or encouragement would you give to a student or other emerging professionals looking to enter the industry?
I would advise students and emerging professionals looking to enter the IT industry to prioritise continuous learning and adaptability. Technology is constantly evolving, so staying updated with the latest trends and skills is crucial, whether that be through self-learning or paid educational learning. Networking and building relationships with professionals in the field can also open doors to opportunities and mentorship. Additionally, don't shy away from speaking up and advocating for diversity and inclusion in the industry, as a more diverse and inclusive workforce benefits everyone. Lastly, always believe in your abilities, be resilient in the face of challenges, give it a go (even though you may not know how) and always question the 'why?' something has been done a certain way – be part of helping to break the cycle. The IT industry offers many rewarding career paths for those who are determined and willing to learn.
What do you know about the ACS now that you didn't know before you were a member?
Becoming a member of the ACS has introduced me to a range of networking events and learning resources which have greatly broadened my knowledge and opened up new opportunities within the tech sector. Something I wasn't aware of existing in Perth prior.
On a lighter note, can you share a fun or interesting fact about yourself that members might not know?
I love DIY and have been renovating my house for the last two years, in between juggling work and studying a Master of Management Information Systems at Edith Cowan University. I clearly love a challenge!
If you would like to connect with Olivia, follow the link here to connect on LinkedIn.
'The ACS Western Australia Emerging Professionals Committee' series aims to shed the spotlight on your WA EPC members.