Register Today for the ACS QLD State Tech Summit 2023
Highlights
The second annual ACS Queensland State Tech Summit will explore a range of timely ICT leadership issues, together with a technical focus, allowing you to build upon your knowledge base of leadership, professional and technical skills. Featuring renowned Australian tech speakers, the program is flexible, and you can tailor your attendance by choosing ICT leadership/professional skills sessions or technical workshops that best suit your professional development needs.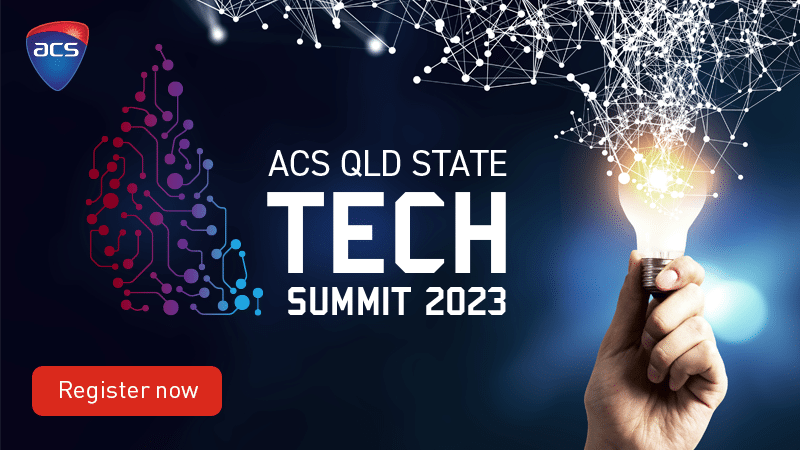 A FREE professional head shot session is now available at the Summit for your new Linkedin profile photo, valued at $350.
Following a sold-out program last year, the second Annual ACS Qld State Tech Summit is back for Friday 26 May 2023 at Cloudland, Fortitude Valley. To support our ICT professionals and leader members, early-bird rates of just $175 (member-only rates) are available for a short time.
Proudly sponsored by Major Sponsors Springfield City Group the program features a dedicated ICT Leaders/Professionals stream including a tech leaders fireside chat, cybersecurity roundup, encouraging diversity in tech leadership and much more. Don't miss your opportunity to:
Share in the key challenges and opportunities facing Qld's tech C-Suite, hearing from an inspired program of Queensland-led high-profile tech speakers
Earn 5 CPD points, perfect for ACS Certified Professionals and Technologists
Network with over 200 ICT sector leaders and professionals at the inclusive Summit cocktail function.
You can also mix and match your Summit attendance, with sessions in the Technical Mastery stream, that covers sessions on making the most of your data, low code development and games development.
The State Tech Summit program features (in order of the Tech Leader's stream on the Summit program):
Raynuha Sinnathamby, Managing Director and Bob Sharpless, Deputy Chairman, Springfield City Group
Selina Beauchamp, Director of Organisational Transformation, Wesley Mission
Ray Merlano, General Manager QLD, Data#3
David Hogarth, CIO, Virgin Australia
Chris Vein, CEO, ACS
Dr Ivano Bongiovanni, Lect. Infosec, Governance & Leaders, School of Business, UQ
Dr Jodie Siganto, Founder, Privacy 108
Emma Taylor, Head of Technology, Virgin Australia
Dulitha Piyasena, Senior Data Analytics Consultant - Data#3 and Advisor, ACS QLD Emerging Professionals Committee
Luli Adeyemo, Director & Founder, Best Case Scenario
Nicola Steel, Founder, JJP Talent Solutions
Andrew Charitou, National ICT Channel Manager, nbn
Kody Cook, Senior Launch Vehicle Engineer, Gilmour Space Technologies
Rhianna Fergusson, Principal Avionics Engineer, Gilmour Space Technologies
Paulo de Souza, Research Dean, Griffith University
The tax-deductible member-only discounted rate of $175, includes full-day attendance, 5 CPD points, barista-made coffee on arrival, morning tea and lunch, and networking drinks.
Summit places are strictly limited, and tickets last year sold out well in advance of the Summit date. Discounted group registration rates are available upon enquiry. For any enquiries, please don't hesitate in contacting the ACS Queensland team at acs.qld@acs.org.au or phone (07) 3316 5700.