Announcing the incoming ACS QLD Emerging Professionals Committee members for 2023
Highlights
Congratulations to the newly elected ACS QLD Emerging Professionals Committee for 2023. This committee represents the interests and careers of students, graduates and individuals who are in the first five years of their career.
Find out more how you can support the future leads of the tech industry in QLD and get involved in EPC initiatives for 2023.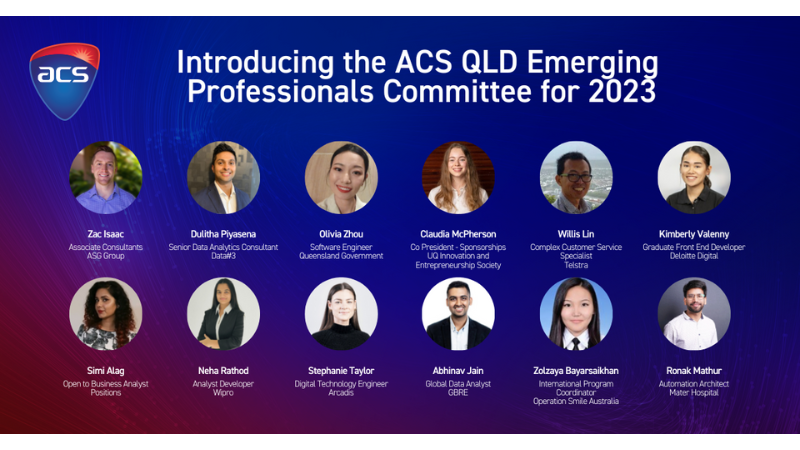 Announcing the incoming ACS QLD Emerging Professionals Committee members for 2023

After a successful first year, the ACS QLD Emerging Professionals Committee (EPC) was able to represent the cohort through a number of initiatives.

EPC delivered a number of in-person and online events designed for students and graduates, represent the branch and the committee on panels at events such as the ACS QLD State Tech Summit and QSITE Conference, supported QLD Branch activities, as well as creating a community for other emerging professionals to come together.

Thank you to the members of the 2022 EPC for their contribution and efforts.

Please help us in congratulating each of the new committee members on this great achievement and please reach out and get to know them as they are the future leaders of the tech industry and ACS QLD.

The EPC is helping connect industry to talent and is calling on Queensland professionals to help put forward internships, volunteer opportunities and mentors to help ACS student, graduate and emerging professional members succeed.

If you are interested in knowing more about the committee and how you can get involved, please contact Alannah Grech, Stakeholder Relations Manager, ACS QLD (Alannah.Grech@acs.org.au) for more information.