ACS Foundation Internship Program

Highlights
ACS Foundation offers internships hosted by a range of Australian tech companies. Sign up for their monthly email, showing open internship roles you can apply for.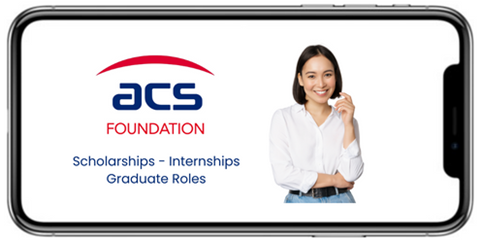 The ACS Foundation works with technology companies to creates paid internship and graduate roles. Internships are developed in partnership with universities and provide academic credit towards student's ICT degree. Internships include a placement which ranges from 3, 6 or 12 months in duration. The placement can be either part time or full time.
Graduate roles are generally 12-month fixed term employment arrangements that are custom designed to suit entry level career ambitions. The placement is based at a client's site and you will be involved with a real team doing real work. You will receive a competitive salary and all employment entitlements including superannuation. At the end of the placement, you may choose to convert to direct employment with the host company if you desire.

Each of these programs are free for students to apply for. The ACS Foundation has over 200 roles available each year on a rolling basis. To see the list of current opportunities, visit www.foundationjobs.com.au