The vision for Springfield: Tech city of today and the future

Highlights
ACS Queensland is proud to introduce Springfield City as the Platinum Sponsor for our State Tech Summit. Read about how technology has shaped the past and present and will continue to shape the exciting future of Springfield as they head to a projected population of 145,000.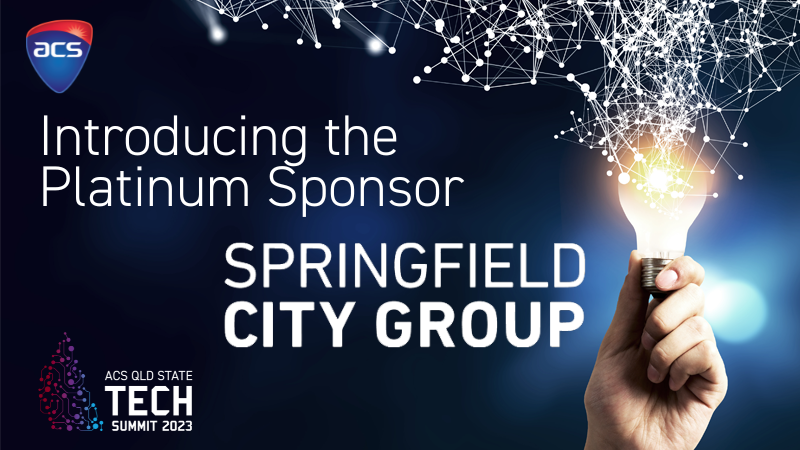 Australia's first city built from scratch with an ICT master plan and a computer for every home has evolved into a lifestyle destination for residents who want to live and work with technology at their fingertips.

Greater Springfield is showcasing the benefits of a digital focus that enabled a city, built before the internet was available to homes, to thrive in an era when technology changes before our eyes.

The Apple computers handed out by Springfield City Group in the early 1990s were part of an ICT master plan that underpinned the new city's growth. Greater Springfield remains the only Australian city built from scratch with a digital plan to link its people and places.

Almost 30 years ago, each homebuyer received a computer that could join the Springfield Community Net (SCN), linked to other homes and to schools, shops and emergency services. SCN utilised the cables already underground in an early connectivity experiment for the new city.

Greater Springfield's ICT master plan has now been updated to reflect the rapid change in technology. The city's Knowledge Precinct is now its economic heart, powered by health, education and innovation. IDEA City is located within this precinct and will be a dynamic, evolving part of the city centre. With no physical boundaries, IDEA City's individual neighbourhoods connected seamlessly to surrounding health and education zones.

IDEA City will maintain a strong research focus to commercialise innovation in partnership with government and business — particularly focused on the physical-digital fusion that is happening between old and new sectors of the economy.

"Greater Springfield has always seen technology as an enabler," Springfield City Group's Chief Commercial Officer – Polaris Peter Blunt said.

"Technology is in the city's DNA. We were the first Australian city developed from scratch with an ICT master plan that ensured technology was integrated into all parts of the city. And that has underpinned so much of what this city has done in more than three decades."

Greater Springfield's digital evolution has been such that its Polaris Data Centre is nearing its 15th birthday yet it's still an example of the city's drive to be innovative. Polaris remains Queensland's largest single data centre with clients including Dell, Suncorp and the Queensland Government.

"The opening of Polaris in 2009 was revolutionary for Queensland in many ways but it remains very relevant today and it's still a best-of-breed solution," Mr Blunt said.

"But it wasn't just the data centre that was a focus for us. Greater Springfield also built its own fibre network that has provided so many options for businesses that want to establish a home here. And that digital innovation has now resulted in a lifestyle gain."

Greater Springfield has continued to attract interest from businesses drawn to a growing talent pool of ICT workers who enjoy the city's lifestyle options, homes at affordable prices and cutting-edge digital technology.

"The Covid-19 pandemic has made people think beyond their work lives and that's impacting the choices that are being made by employees and by employers," Mr Blunt said.

"Greater Springfield has always thought of ICT as the enabler, not as the business. That continues to open new opportunities for the city and for those who choose to live and work here."

Greater Springfield renewed its commitment to education, health and innovation when it celebrated its 30th birthday last year with population growth that will place it alongside the likes of Darwin in the coming years.

The city is now home to more than 53,000 residents.

"We are grateful for those people who have shared our vision and made Greater Springfield their home. And we thank those who have partnered with us in the homes, businesses, shopping centres, roads, rail, schools, university, stadium and hospital that now surround us," Springfield City Group chairman Maha Sinnathamby AM said.

"We will continue to grow as we head towards a population of 145,000 – almost level with Darwin's current population. Our commitment to this project has always been well into the future – there is a long way to go.

"We maintain a strong research approach to commercialise innovation in partnership with government and business, focusing on the physical-digital fusion between old and new.

"We want to build brainpower because education is the only currency that you can cash in anywhere in the world. And it's the only currency that can't be stolen from the owner. An army of people has made this all possible fuelled by the elements vital for any modern nation to reach its potential – belief and the determination to stop not until the goal is reached."

For more information visit www.greaterspringfield.com.au

About Greater Springfield

Greater Springfield is a master-planned city situated 35 minutes' drive from the Brisbane CBD.

More than 53,000 residents now call Greater Springfield home.
The Australian Bureau of Statistics labelled Greater Springfield as the fastest-growing location in Queensland from 2011 to 2021.
Combined public and private investment in the city is more than $20 billion and is growing by about $1 billion a year.
It is expected at least one job for every three residents will be created via the Knowledge Precinct at Greater Springfield which incorporates cutting-edge health, education and innovation cities.