Deep dive into the ACS Learning Accelerator – Blockchain, IT Service Management and Conflict Management Resources

Highlights
An amazing benefit of ACS membership valued at hundreds of dollars is access to the online ACS Learning Accelerator learning management system, powered by Percipio.
Take a deep dive into what's on offer in three of many diverse topic areas.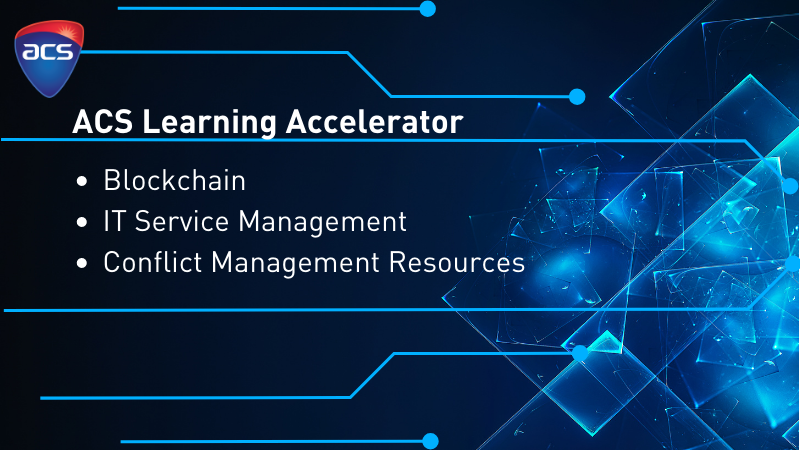 Blockchain

The purpose of the Capability Spotlight is to draw attention to ACS professional development services and publications, with a focus on the ACS Learning Accelerator.

Blockchain technology has revolutionised the way we handle data and transactions. Studying blockchain can lead to a plethora of job opportunities in areas such as finance, cybersecurity, and supply chain management. Furthermore, understanding blockchain can help individuals and businesses secure their digital assets and ensure transparency in their dealings. With the increasing adoption of blockchain, having a solid understanding of the technology will become increasingly valuable. By studying blockchain, one can gain a deeper understanding of the future of digital transactions and data management, positioning them for success in a rapidly evolving technological landscape.
IT Service Management
IT service management has been all about IT improvement. But now service management is a holistic, customer-focused driver of value for entire businesses and organisations.

The goal of IT service management is to maximise the value obtained from, and delivered by, technology-driven products and services.
For ICT staff, it is important to understand the principles and practices of IT service management as it helps to:
• improve the quality of tech and digital services provided
• enhance customer satisfaction
• reduce downtime and improve the reliability of services
• ensure compliance with industry standards
• optimise the use of resources – people, technology, processes and systems
• foster a culture of continuous improvement
The most recognised service management activities are:
• Problem management
• Incident management
• Change and release management
• Service request management
• Configuration management
• Asset management
Under a service management model, business value will increase as technologies are added and mature.
Conflict Management
Conflict resolution is a vital skill in the workplace, especially in technology roles. It requires a combination of interpersonal skills, effective communication, problem-solving ability, and specific knowledge of the technology involved. Prompt and effective conflict resolution brings many benefits such as achieving organizational objectives, maintaining healthy relationships, and creating a positive work environment. The key capabilities required for conflict resolution include active listening, effective communication, problem-solving, patience and emotional recognition, adaptability, and cultural competence. It is essential to understand all perspectives, be flexible, and respect cultural differences to create a collaborative workplace and resolve differences constructively and respectfully.

Click here to view ACS Capability Spotlight Courses Details: