Highlights
It is with great sadness that we announce the passing of Brian Finn. Brian was a former IBM CEO, an ACS Fellow and a life-long advocate for Australia's tech community.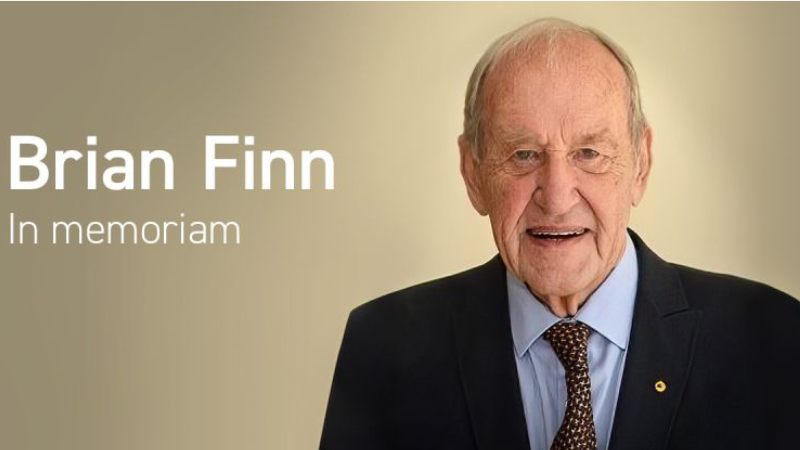 ACS Fellow Brian Finn, former head of IBM Australia and a long-standing supporter of ACS and the Australian technology community, has passed away aged 82.
Born in England, Brian joined IBM in 1959 after deciding a career as a clerk would be 'too boring'. After stints in New Delhi running the corporation's South Asian business and Hong Kong to manage the South-East Asian markets, he came to Australia in 1980 to head IBM's Australian and New Zealand operations.

During his thirteen years as IBM Australia's Chief Executive Officer, Brian played a key role in developing the nation's technology sector including working with the Hawke government to build IBM's Wangaratta personal computing manufacturing facility that became one of the organisation's major production centres for East Asia.

He also chaired the 1991 the Australian Education Council Review of Post-Compulsory Education and Training, which focused on giving young people pathways other than university to build their skills while remaining in the education system.

In recognition of his work, Brian was made an officer of the Order of Australia in 1990 for services to Business, Industry and Education.

Following his retirement to the Gold Coast in 1993, Brian remained active in the Australian IT sector and with the ACS Queensland branch. He was a tireless advocate for building Australia's business and technology skills base.

ACS Queensland Branch Chair Beau Tydd paid his respects to Brian, saying: "I'm deeply saddened on Brian's passing. I was fortunate to spend a great deal of time with Brian over the past 2 years and I have cherished his stories and his guiding hand.

He was a great champion for the Australian technology sector and for ensuring young Australians have the skills to compete in the 21st Century. Brian's legacy will continue to inspire and resonate with all those who knew him or were influenced by his work.

We honour his memory and the indelible impact he made on Australia, IBM, and the world and to individuals like me. Vale my friend."
His achievements included:
An Honorary Doctor of Education from University of Wollongong on 4 January, 2004.
A 35-year career with IBM, after 2 years with the British Army, holding roles with the company in the UK, Austin, New Delhi, Hong Kong and Sydney.
Served as Chief Executive of IBM Australia from 1980 to 1993 and Chairman from 1991 to 1998, making him a critical leader in IBM Australia's 90 Years of service in Australia.
Held directorships of other Australian companies such as Telstra and adjunct Professorships at two universities.
Chaired the Australian National Training Authority and the Council of the National Science and Technology Centre.
Brian was profiled by ACS' Information Age last year where he discussed his career and advocacy in retirement.