Kelvin Grove State College Upcoming Events - Tech Industry Assistance Sought
Highlights
ACS Professional Partner Kelvin Grove State College are seeking tech industry assistance for upcoming events in July and August. Can your tech team help?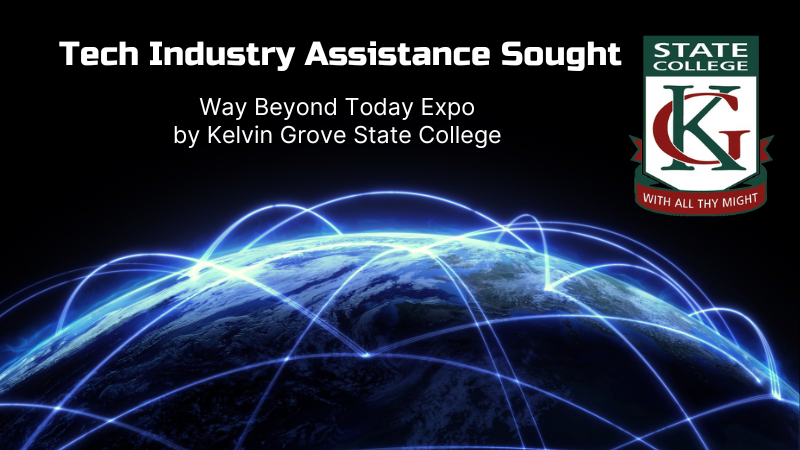 Kelvin Grove State College is seeking tech industry assistance for upcoming events. Please share this information with anyone doing anything innovative in the digital transformation, innovation and/or entrepreneurship space who you think would like to showcase their projects, products, services or start-up at the Expo.

Way Beyond Today Expo - Tuesday 25 July 12 noon to 5 pm – KGSC College Hall

The Way Beyond Today event forms part of Kelvin Grove State College's response to the many substantial ongoing changes that are occurring in future pathways. The event is an important part of the process for students in choosing subjects and pathways for their senior schooling and beyond. More importantly, it is about empowering students to chart a course for their future that takes into account the shifting perspectives of the world of work. Parents/carers are also invited to attend the Expo with their students after 3 pm.

For 2023, the Way Beyond Today Expo is part of the Subject Selection event. This Expo is an opportunity for students to speak individually to and network with representatives from peak industry bodies, industry professionals, VET and university providers and similar. It is also an opportunity to provide students with information about subjects they can select in Years 10-12, and other pathways and options.
The eLearning faculty display at this Expo aims to raise awareness of and showcase digital transformation, innovation and entrepreneurship across industries and in daily life, with interactive and/or tech-based activities for students.
If you or any of your colleagues would like to be involved in this event please use the link below to register. https://www.eventbrite.com.au/e/2023-way-beyond-today-expo-exhibitor-tickets-653635008907 The link closes on Monday 24/7/23 at 11:55am.

There are some mandatory requirements that all participants will need to address:

Register: All participants will need to register using the Eventbrite link above
Blue Card: full details required to then be validated on the day OR provide exemption details
MAST Declaration: Mandatory All-Staff Training MAST (complete and sign the Declaration on page 17 (or page 20 if you are printing the page) and bring it with you on the day which will remain valid for 1 calendar year.
Additional information will be sent to registered participants closer to the event e.g. parking, where to meet, sign in procedures.

What should I bring?

Display and/or distribute any marketing or other materials for your organisation.

Consider using strategies to engage students e.g. give a sticker or small item to students who ask questions
Any required equipment e.g. digital or immersive technologies or other digital equipment used in your organisation to demonstrate or use with students The more interactive the experience for students, the more engaging and memorable for them, which encourages them to reflect on their future pathways, and develop their digital capabilities (including through our subjects and extra-curricular programs).
Please also email me details to ensure I can provide what is needed e.g. amount of space, power, tables and chairs, display boards. As we have limited equipment resources, it would be great if any needed items can be brought by the person attending if possible.

Date Claimer – Science Week Techxpo – Thursday 17 August

Year 12 Science, Technology and Innovation, and Maths student leaders are keen to run a number of activities during Science Week in August, with planning underway for a "Techxpo" event on the Thursday. The students are keen to have a number of engaging and interactive tech activities for students to engage with during this event. Let me know if this is something that you think you may be able to be involved with.

Thank you for your support, and if you require any additional information please do not hesitate to contact me.
Sue Isbell, Head of Department eLearning, Kelvin Grove State College

Email: sisbe2@eq.edu.au; Phone: 35527348