Something Tech – discounted ACS Member rates secured
Highlights
Our good friends at River City Labs are hosting Something Tech Thurs 31 August to Fri 1 September at Howard Smith Wharves. Learn more about the amazing tech keynote speakers and unlock a special discount code for ACS members saving you $160 on registration.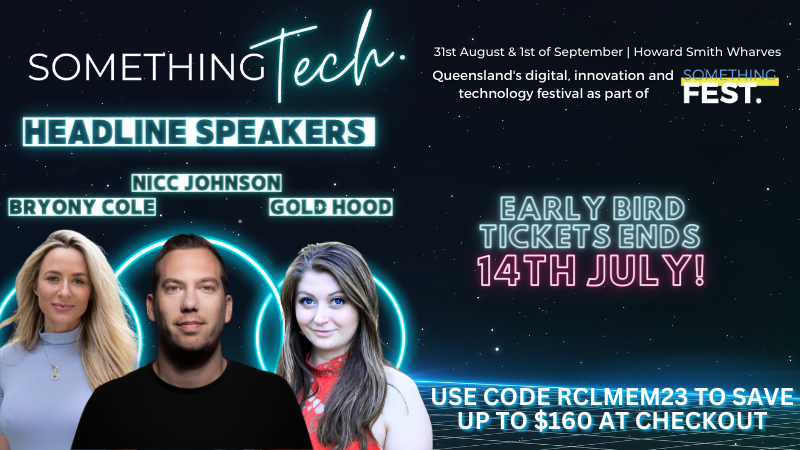 Join us at Howard Smith Wharves as we showcase the best of Tech & Innovation in Queensland as part of Something Fest - Queensland's week-long festival celebrating all things digital, innovation, and technology.

Something Tech (Thurs 31 August – Fri 1 September) features guest speakers; technology showcases; networking plus the River Rival Finale on Closing Day.
Headline speakers include:
· Bryony Cole - World's Leading Authority on SexTech

· Nicc Johnson - Founder and CEO of Music Health

· Gold Hood - 2023 Top 100 Women of the Future and Serial Tech Founder
· Ben Stokes - Founding partner of Chasing Rainbows
· Joe Zhou - Founder of ASECO Group
· Duncan Jones LMGI MAICD - Founder & CEO of Myriad Studios
· Andy Hill - Founder of Planet Price
· Siobhan Casey (GAICD) - Chief Growth Officer, Director Migration Pathways at ACS (Australian Computer Society)
+ more to come!
ACS Members can use the CODE: RCLMEM23 to save up to $160 on individual and group rates at checkout. This special early-bird rate is only available until 14 July.
When using the promotional code, apply at the top section, and then it will populate a new ticket selection option further down the page - RCL member Ticket - then select the quantity and continue check out using this ticket option.
Register here: https://bit.ly/3NV42sO