10 Steps to Recession-Proof and Thrive in Your Tech Career
Highlights
With uncertainty in the economy and circa 80% of employees being disengaged at work, join this interactive Masterclass to discover how you can both survive during an economic downturn as well as thrive in your tech career.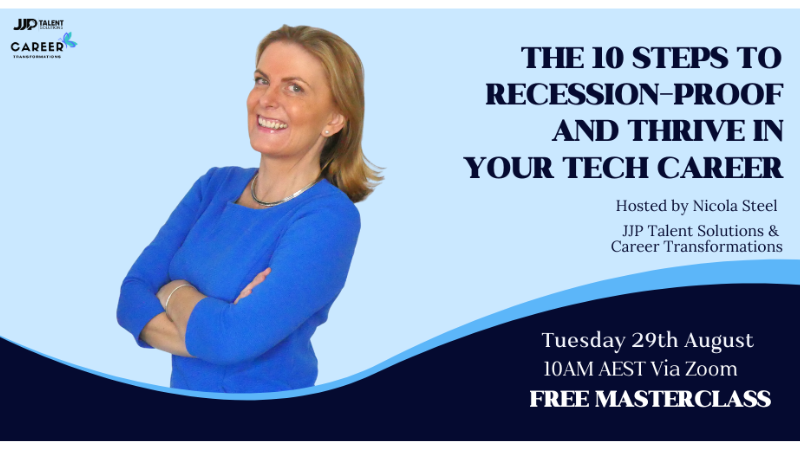 In a time of economic uncertainty and with a significant portion of employees feeling disengaged in their work, the prospect of navigating a successful tech career may seem like a daunting challenge. However, there's a beacon of opportunity on the horizon – a Masterclass designed to equip tech professionals not only to survive but to thrive during an economic downturn.

Led by Nicola Steel, ACS Preferred Recruitment Partner and Founding Director of JJP Talent Solutions, this Masterclass promises to be a transformative experience. With over two decades of experience in empowering tech professionals to overcome obstacles and achieve unprecedented success, Nicola will provide you with a wealth of knowledge and inspiration.
The Masterclass focuses on the essential steps to not only weather the storm of economic uncertainty but to emerge stronger and more prosperous than before. Attendees can anticipate a range of benefits that promise to redefine their tech careers:
1. Enhanced Career Clarity: Uncertainty often clouds career paths, but this Masterclass will provide attendees with newfound clarity, enabling them to make informed decisions about their professional journey.
2. Amplified Confidence: With Nicola's guidance, participants will unlock greater self-assurance, enabling them to tackle challenges head-on and seize opportunities with renewed conviction.
3. Elevated Credibility: In today's competitive tech landscape, credibility is key. Attendees will gain insights into building a reputation that commands respect and recognition among peers and employers.
4. Greater Impact: Armed with a comprehensive toolkit of strategies and insights, participants can expect their contributions to make a more substantial impact within their current organisations and beyond.
5. Increased Income Potential: The Masterclass is designed to empower tech professionals to negotiate and position themselves for enhanced earning potential, ensuring their hard work is rewarded accordingly.
This Masterclass offers an invaluable opportunity for tech professionals to gain an edge in their careers. This session will delve into ten actionable steps that will recession-proof your career trajectory and empower you to reach new heights of success.
There are several event times to join in the Masterclass depending on your availability:
• 16th August at 10am AEST
• 29th August at 10am AEST
• 14th September at 11am AEST
To confirm your interest, register via this link - https://events.humanitix.com/10-steps-to-recession-proof-and-thrive-in-your-tech-career