Ronak's tips to successful career in tech
Highlights
Hear from ACS Qld Emerging Professional Committee member Ronak Mathur as he shares his experiences and achievements that have helped shape his successful carer to date.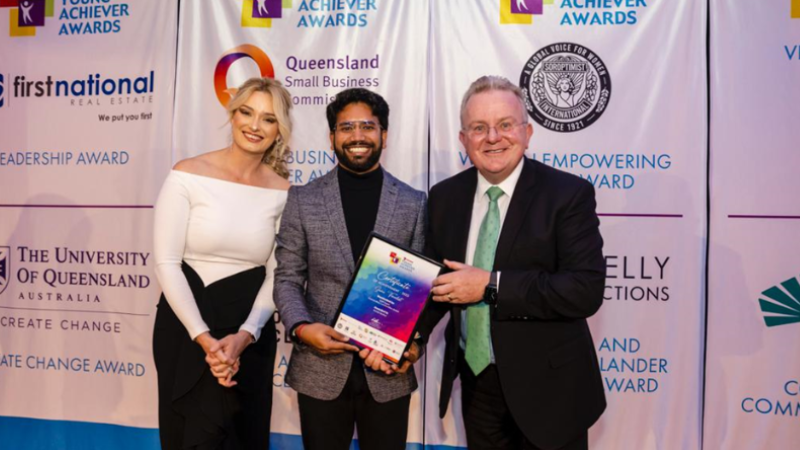 We are delighted to share the inspiring journey of Ronak Mathur, a true trailblazer and an epitome of excellence, whose accomplishments in receiving the Queensland Young Achiever Semi-finalist Award, Microsoft MVP award, Global Talent Visa, and becoming an esteemed ACS Emerging Professional Committee member, showcase the profound impact of the Australian Computer Society (ACS) in empowering young achievers in the tech industry.

Ronak came to Australia in 2019 to pursue his master's from QUT and never looked back. Leaving behind familiar shores and stepping into a new country can be daunting, but Ronak fearlessly embraced the challenges that came his way. From adapting to a different culture to forming new connections, he quickly became a valued member of the Australian community.
The Supportive Ecosystem of QUT and ACS
One of the pivotal elements in Ronak's journey was the supportive ecosystem of both QUT and the Australian Computer Society (ACS). QUT provided a nurturing environment, exceptional faculty, and cutting-edge resources, while ACS offered a platform for networking, professional growth, and exposure to the broader industry landscape.

Through ACS, Ronak connected with seasoned professionals who guided him through the nuances of the Australian tech industry. In his statement to ACS, Ronak said "My first engagement with ACS started from my university days when I was leading QUT BANDS student club. As the club's president, I worked tirelessly to create an environment where technology enthusiasts could connect, collaborate, and explore their shared interests. ACS has helped me in achieving our club's goal by partnering with us in all our club events and providing our students a platform to network with industry professionals."
The Microsoft MVP Recognition
Fuelled by his love for technology, Ronak embarked on a journey into the realms of software development, Automation and Artificial Intelligence. His insatiable hunger for knowledge and willingness to share it with others captured the attention of Microsoft. In recognition of his exceptional technical abilities and dedication to empowering the tech community, Ronak was honoured with the prestigious Microsoft Most Valuable Professional (MVP) award. This honour is given to only few individuals across the globe. This accolade reaffirmed his position as a true tech influencer and thought leader.
A Promising Beginning - Queensland Young Achiever Semi-finalist Award
From the beginning of his student journey, Ronak demonstrated an unwavering passion for technology and innovation. Driven by an innate curiosity, he eagerly explored the vast world of Information Technology. Recognizing the importance of academic excellence and community engagement, Ronak diligently honed his skills while making a positive impact on society. Such dedication and enthusiasm earned him recognition as a Queensland Young Achiever Semi-finalist, marking the commencement of an extraordinary journey. He was honoured to receive this award from Dominique Lamb, Queensland Small Businesses Commissioner.
The Global Talent Visa - A Gateway to Boundless Opportunities
Australian government has recognized Ronak's remarkable achievements and the immense potential. Ronak has represented Australia in various national and International Conferences as a speaker sharing his expertise in Automation and AI.
Currently working with Mater Hospital as an Automation Architect, he is playing a crucial role in transforming Healthcare in Australia with Automation. As a result of his accomplishment in the tech sector, he was granted the prestigious Global Talent Visa for Australia by department of home affairs. This visa not only acknowledged his outstanding talent but also provided him with an incredible platform to contribute significantly to Australia's thriving tech landscape.
Becoming an ACS Emerging Professional Committee Member
In parallel to his technical feats, Ronak is actively engaged with the Australian Computer Society. His passion for the advancement of technology and commitment to empowering fellow young professionals caught the attention of the ACS Emerging Professional Committee. Invited to join this esteemed group of individuals, Ronak became an integral part of shaping the future of the tech community and creating opportunities for emerging talents.
Contributing to Queensland's Economic Growth
Beyond his individual success, Ronak found fulfillment in giving back to the community. Embracing the values of mentorship and collaboration, he joined the Queensland Government's Mentoring for Growth initiative as a Business Mentor- Technology. In this role, he shares his expertise with aspiring entrepreneurs and small businesses, providing them with strategic guidance, industry insights, and invaluable mentorship to use the right tools and technologies that can help their businesses to scale.
The Future - Inspiring the Next Generation
As Ronak's journey continues, he envision a future where he can use his diverse experiences and knowledge to inspire and uplift the next generation of tech enthusiasts. With ACS's continued support, he aim to drive innovation, foster diversity and inclusion, and spearhead transformative projects that positively impact society.
If you would like to connect with Ronak and follow his journey online, connect with Ronak on LinkedIn via the link here
Or if you would like to know more about the ACS QLD Emerging Professionals Committee and how to get involved, please email Alannah Grech, Stakeholder Relations Manager, ACS QLD via email – alannah.grech@acs.org.au