ACS QLD Member Spotlight Series: Ann Stevens
Highlights
Hear from Ann Stevens, described by Mathew Eames as a trailblazer and world leader, as she shares insights into her current focus being creating immersive experiences using 3D scanning and XR, and the memorable moment winning the AQ pitching challenge with Miguel Besas.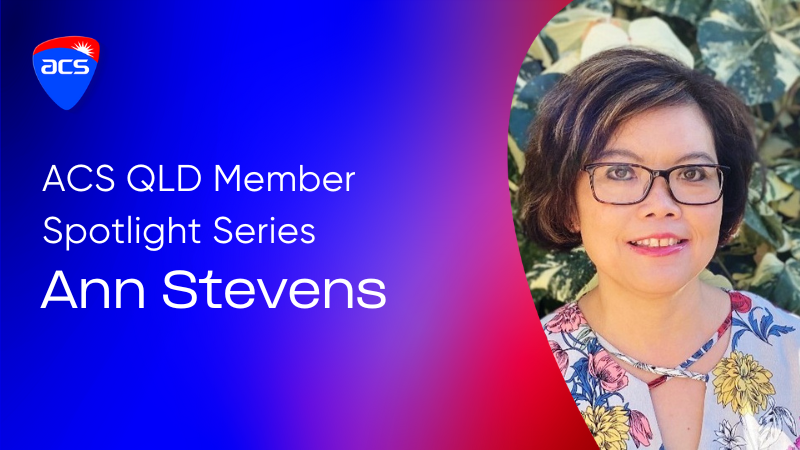 'When it comes to pulling an event together she always is able to pull a rabbit out of the hat or pull in some amazing tech to help show off what is exciting and new. A trailblazer with many elements of VR/AR and I am constantly learning when with her. Her energy and enthusiasm for the industry is infectious and this shows with everything she does. She is so humble, but she is a world leader and we are so proud of her achievements… it's always fun with Anne.'
- Mathew Eames, CIO, Protech and Chair, ACS QLD Gold Coast Chapter.
Tell us a little bit about yourself:
I am an extended reality (XR) course designer and educator of Tafe Queensland immersive technology projects. My undergraduate degree was in Applied Science (Computing). I also completed a Graduate Diploma in Further Education and Training and a Master in Multimedia. My educational experience includes teaching vocational training and higher degree programs at Tafe Queensland and Southern Cross University. My industry experience includes developing interactive digital learning resources for mining companies in Indonesia and Griffith University.
What is a key project or initiative that you are personally working on that is tech related?
Within the last 3 years, we have been focusing on creating immersive experiences using 3D scanning and XR. Together with my team, we are very fortunate to get involved in R&D with local industries, particularly the construction and manufacturing industry, who can apply this technology to minimise risks and costs and streamline their workflow.
What do you enjoy most about working in the tech industry?
I got to play with cool devices. On a few occasions, I got early access to try them before they were available to the general public. I make genuine friendships through common interests with other IT professionals.
What is your greatest challenge within the tech industry?
We must keep up with frequent updates and releases, mainly when working on a project that uses a few software applications, plugins and devices. It is an additional challenge when they must be integrated as the updated versions or releases are no longer in sync. When we missed a few updates, we likely had to start again as the workflow and features have changed significantly, which can be frustrating and time-consuming.
Which ACS member benefit have you found most valuable?
The most valuable benefit is the opportunity to network and collaborate with other ACS members, connections and their contacts. I got to know many people I can rely on for advice and share my knowledge with.
How has the ACS membership supported your career journey in tech?
ACS Queensland has provided me with great opportunities to advance my career. The support from Beau Tydd and Holly Bretherton has allowed me to realise my ideas. ACS also provides operational, management and promotional support to activities such as workshops and events I had to deliver.
What do you know about the ACS now, that you didn't know before you were a member?
I did not know about the value of indemnity insurance offered by ACS. I recently learned how important it is, particularly when you are a startup and started signing contracts requiring such cover. The Qantas Club, corporate membership offer is another benefit that I only used recently as we start travelling again for events, meetings, etc. It makes long-distance travel more comfortable.
What is a tech related project or achievement are you most proud of?
The publication of the Tafe Queensland Unity Academic Alliance (UAA) Case Study https://unity.com/case-study/tafe-queensland-uaa-case-study significantly impacted my career. It gave me confidence that the work we did was recognised internationally. Another memorable moment was winning the Advance Queensland - Queensland Symphony Orchestra pitching challenge with Miguel Besas for Imagine Realities earlier this year. We are passionate about working on this innovative project to assist regional Queensland students with their music education.
What are your career goals and who is supporting you getting there?
As an educator, my two main career goals are to make a significant impact in technology education in Australia and to make a positive impact on the students I have, the companies and the individuals I collaborate with.
Everyone who believed in me supported me in getting where I am now. My ACS friends, colleagues at TAFE Queensland, fellow educators at other universities, and all the organisations who funded and supported the projects and courses I have been involved in. I appreciate a few companies whose staff have been helpful in my day-to-day job: Unity, Arkio, Pacelab WEAVR, Holovision and Meta. As an educator, all my previous and current students have influenced my career.
Is there another ACS member who you would like to shout out who may have helped you on your career goals, or worked together with recently that deserved to be recognised?
There are quite a few. All the ACS Gold Coast Chapter committee members are led by Mathew Eames. Matthew Jorgensen and Cynthia Gusman-Nolan from ACS GISP, and finally all the hardworking ACS Queensland staff who helped me a lot with event management: Alannah Grech, Caitlin Hultgren and Angela Chen.
Are you currently hiring any new staff members for your team and would like to include below?
N/A
However, I can offer TAFE's free Metaverse-Ready micro-credentials. The primary target audience is high-school students; however, it is available for the general public to enrol https://coursegateway.tafeqld.edu.au/catalog?pagename=Metaverse-Ready
Also, here is an ACS sponsored event I am currently organising: World Innovative Technology Challenge that I would like to invite junior and high school students to join: https://ausrobotics.files.wordpress.com/2023/09/wit2023_finalflyer.pdf
What is the key piece of advice you would give to a student or emerging professional entering the industry?
Do not get overwhelmed with the rapid growth of the industry. Try to develop unique skillsets and innovative products or services, which can be simple and manageable but you are very passionate about it. Grow your special interest or knowledge of the area, share your findings, and promote your product/service well. Always ask for feedback along the way and value any constructive feedback.
If you would like to reach out to Ann regarding any of the above projects and intatives, the best contact is through LinkedIn https://www.linkedin.com/in/ann-stevens-7465b96/ or send email to ann.stevens@tafeqld.edu.au
If you would like to be featured in our ACS QLD Member Spotlight Series please email Alannah.Grech@acs.org.au.