ACS QLD Member Spotlight Series: Claudia McPherson
Highlights
Hear from Claudia McPherson as she shares her recent achievements and how she utilised the ACS network to help gain momentum in her tech career, as well as how she took the big leap and has been accepted to be an Software Intern at Google!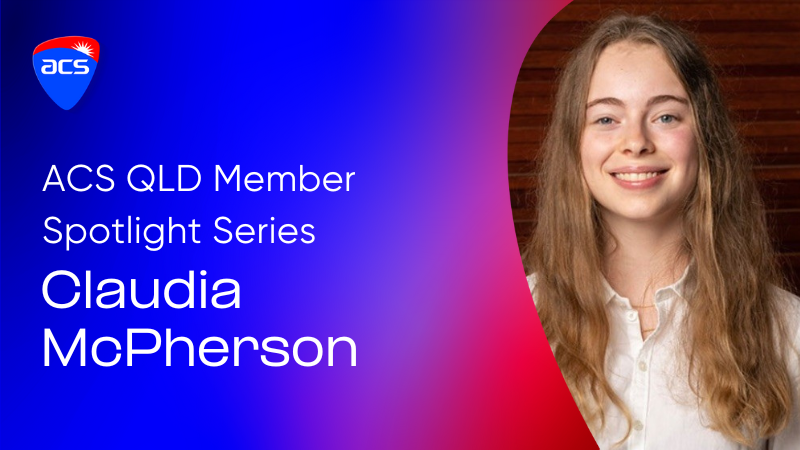 Tell us a little bit about yourself?

I'm currently in my second undergraduate year of a dual mechatronic engineering and computer science degree, and can't get enough of tech, innovation, and social impact! I love pushing myself and taking opportunities, and I believe that the absolute best parts of the tech industry are all the amazing people I get to meet along the way!
Which ACS member benefit have you found most valuable?

The network is by far the most valuable part of the ACS. Through the ACS so far, I've met so many wonderful people, and these people have been directly responsible for a large number of the opportunities I've had the privileges of chasing this year! For example, thanks to the ACS, I got to be a panelist for the IWD Diversity in Tech event at the start of the year. This led to recognition of my skills in public speaking, which then led to me recently being selected to run a national Web3 and AI Hackathon in Melbourne!
How has the ACS membership supported your career journey in tech?
The ACS membership has given me access to so many resources and people that I wouldn't've known about before, and that have greatly benefited my career and network.
What is a tech related project or achievement are you most proud of?
I've always had impostor syndrome when it comes to the actual technical side of tech, but I've recently passed the recruitment process and got a software internship at Google! Taking the leap not only to apply for the internship, but to give the technical and behavioral interviews my all definitely took a lot of confidence and determination, which I've definitely developed through my role as an EPC member of the ACS.
Is there another ACS member who you would like to shout out who may have helped you on your career goals, or worked together with recently that deserved to be recognised?

I'd love to shout out Beau Tydd, who has not only connected me with some phenomenal people, but was also the one who recruited me into the ACS EPC in the first place! The world definitely needs more people like Beau - I don't know where I'd be without his support!
What is the key piece of advice you would give to a student or emerging professional entering the industry?
Take every opportunity that's offered to you! As long as you're open-minded and what you're doing aligns with your values, you can only learn and grow from each experience.
If you would like to reach out to Claudia regarding any of the above projects or to know more of her experience with the ACS QLD Emerging Professionals Committee, connect with her on LinkedIn - https://www.linkedin.com/in/claudia-mcpherson-687527236?trk=contact-info

If you would like to be featured in our ACS QLD Member Spotlight Series please email Alannah.Grech@acs.org.au.