ACS QLD Member Spotlight Series: Richard Cordes
Highlights
Hear from Richard Cordes as he shares insights from his diverse experiences within the Information Technology field and the projects such as the Lego Saturn V Space Rocket he is currently working on.
Richard is also currently looking for a part-time role in Brisbane as an internal advisor, please reach out if you have any opportunities available.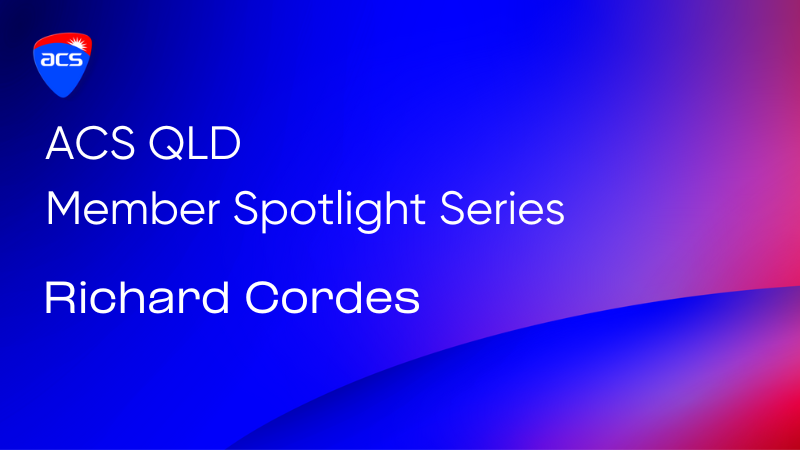 'What I think the mentor gets is the great satisfaction of helping somebody along, helping somebody take advantage of an opportunity that maybe he or she did not have.' Clint Eastwood.
'Richard is a wonderful supporter and connector of the ACS Member Community, with an incredible generosity of spirit. Richard's ability to connect like-minded tech professionals to collaborate is uncanny, and he is the true embodiment of an ACS Professional member.
I'll never forget how Richard made me feel welcome in the role when I commenced with ACS in 2019. Richard is ever ready to roll up the sleeves and help our team at branch events, which is very much appreciated in a small team environment.
Richard remains ever-humble despite a phenomenal background and career in technology, and we are privileged to have him as an ACS Member.' Holly Bretherton, State Manager – QLD, ACS.
Tell us a little bit about yourself:
I am a seasoned professional (MACS CP) with diverse Information Technology project experience in advising and delivering agile targeted operating models to help transform good organisations into great ones, through uplifting their people, processes, and digital technology, including advanced future systems.
What is a key project or initiative that you are personally working on that is tech related?

Building my Lego Saturn V space rocket, while I actively look for my next role.
I have just successfully rolled out a new enterprise-wide system in a large well-regarded organisation. The system has been widely adopted, and is working exceptionally well.
What do you enjoy most about working in the tech industry?
Engaging with so many wonderful and highly capable professionals in solving complex and challenging problems, through the wise application of information technology solutions.
It absolutely warms my heart to meet and work with people from across the IT industry, who genuinely strive to help organisations achieve their aims.
What is your greatest challenge within the tech industry?

The icebergs in Queensland!
Time and time again over the years I have seen that successfully completing enterprise-wide IT projects is a very complex endeavor, even at the best of times.
The iceberg describes the idea that organisations often plan IT projects by scheduling, budgeting, and resourcing according to what they see: the tip of the iceberg.
However, most of the complexity of enterprise IT projects lies beneath the surface - what is not seen.
Often, it is not until such projects are well-underway that the true enormity of these endeavors are fully realised; often to the sheer terror of those involved in trying to get these projects over the line, all the while being constrained by an unrealistic schedule, with too little funding.
By contrast to IT projects, the frightening Superman Escape roller coaster ride on the Gold Coast is a walk in the park!
Which ACS member benefit have you found most valuable?
Gaining practical insights from ICT leaders, by watching the ACS Industry Insights Leaders Series.
How has the ACS membership supported your career journey in tech?
By being an ACS Certified Professional, and thus being recognised as an IT trusted advisor.
'Certification means you hold the primacy of the public interest at the centre of your approach, working by the ACS code of ethics, and committed to continuing to build your skills and knowledge base.'
Reference:
Why Become a Certified Professional and Certified Technologist at: https://www.acs.org.au/insightsandpublications/news/2016/120989.html
What do you know about the ACS now, that you didn't know before you were a member?

That too often, IT projects are undertaken by people who are not formally qualified in IT and who are poorly prepared.
As a result, many industries are littered with way too many IT project train wrecks.
ACS members who invest in their professional development including attending events, being formally IT educated, and abiding to code of ethics, are in a better position to successfully deliver IT systems.
What is a tech related project or achievement are you most proud of?

Playing a very small part, very early on, in introducing both the personal computer, and analytics.
What are your career goals and who is supporting you getting there?

Becoming an internal advisor - coaching employees in people, process, and digital technology, by drawing on my wealth of experience and knowledge gained over 40 years, to better enable staff to deliver agile targeted operating models in their organisations.
Is there another ACS member who you would like to shout out who may have helped you on your career goals, or worked together with recently that deserved to be recognised?

I would use four beautiful words: Holly, Alannah, Angela, Caitlin.
Each young woman continues to amaze me as to how totally dedicated they are to providing great member experiences, and delivering consistently high quality events.
They always place the members at the centre of everything that they do.
THANK YOU Holly, Alannah, Angela, and Caitlin.
You are amazing.
Are you currently looking for a job within the tech industry? If so please provide more information on what type of role you are looking for and location.

Yes. Part-time, available as and where needed, based in Brisbane.
The role that I am looking for is that of internal advisor - available as and where needed - I coach employees in people, process, and digital technology, by drawing on my wealth of experience and knowledge gained over 40 years, as well as applying the best ideas and key lessons from leaders who have defined their industries, including aerospace.
What I can help with:
• Advising IT teams as they deliver information technology projects
• Wisely applying innovative information technology for sustained advantage
• Architecting agile organisations to deliver measurable improvements to strategic objectives
• Training staff in modelling business processes
• Wellness counseling by supporting and guiding staff who are struggling/stressed
• Creating inspiring business presentations and stories that transform ideas into actions
• Workplace training to individuals or small groups, across a broad range of topics
• Coaching to develop authentic leadership in the true sense of the verb
• Partnering with unit managers to help solve their most pressing problems
What is the key piece of advice you would give to a student or emerging professional entering the industry?
Find people that can become your trusted mentors. Build your professional relationship with them.
In doing so, they can become your path finder, bearing the flaming torch high above their heads to lighten the darkened path for you to travel along, as you embark on your career journey.
Make sure that you always genuinely thank them for helping you.
How can others contact you if they are interested in connecting and knowing more?

I would genuinely love to meet and engage with each and every member of the Queensland branch of the ACS, so that I can learn about you, and explore how I might be able to mentor you on your career journey into your bright and happy future.
Please reach out to me. Your contact will always be most welcomed - generalthought@gmail.com
If you would like to be featured in our ACS QLD Member Spotlight Series please email Alannah.Grech@acs.org.au.