ACS QLD Member Spotlight Series: Gauresh Bamane
Highlights
Hear from Gauresh Bamane as he shares his greatest achievement to date being a 5000-node loT project and shares what he enjoys most about working in the technology industry.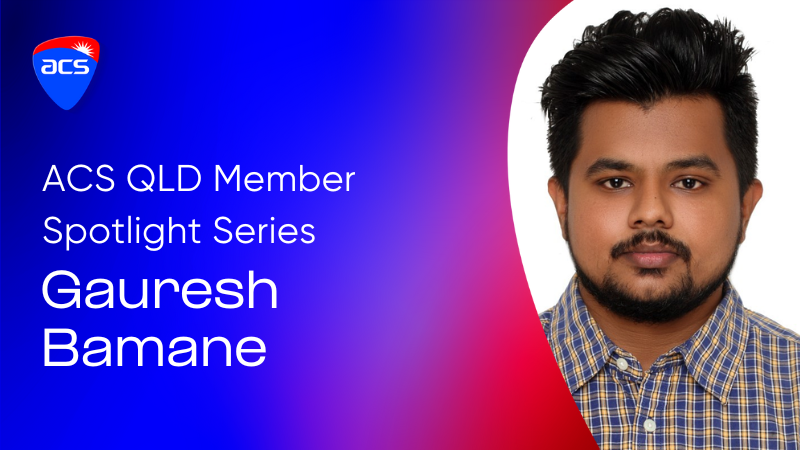 Hello, I'm Gauresh Bamane. I hold a master's degree in Information Technology, with a focus on networking and cybersecurity, and I also have a CCNA certification. During my master's program, I successfully completed a 5000-node IoT project, showcasing my ability to manage complex initiatives. My passion for technology goes beyond academics, as I actively engage in practical experience with network management and security protocols. I'm excited about the opportunity to contribute my skills and knowledge.
What is a key project or initiative that you are personally working on that is tech related?

One of my standout projects was creating a 5000-node IoT network using Cisco Packet Tracer. This involved selecting hardware and ensuring secure communication among nodes. Throughout the project, I faced various challenges, such as optimizing network performance, managing power consumption, and troubleshooting connectivity issues. However, with determination and problem-solving skills, I successfully overcame these obstacles and delivered a fully functional IoT network. This project not only strengthened my technical skills but also highlighted my ability to lead complex tech initiatives.
What do you enjoy most about working in the tech industry?

What I love most about working in the tech industry is the fascination of understanding how the internet connects the world. It's incredible to think about how switches, routers, and cables are the invisible threads connecting our world. As a network engineer, I'm thrilled to be part of the team that maintains and enhances this intricate digital infrastructure. Ultimately, it's the sense of being a part of something bigger, something that connects people and ideas across the globe, that fuels my passion for working in tech.
What is your greatest challenge within the tech industry?

One of my greatest challenges in the tech industry is navigating the steep learning curve. The rapid advancements in technology and the complexity of network systems require constant adaptation and learning. Staying updated with the latest networking protocols, security measures, and troubleshooting techniques can be both demanding and rewarding. Often, it is not until such projects are well-underway that the true enormity of these endeavors are fully realised; often to the sheer terror of those involved in trying to get these projects over the line, all the while being constrained by an unrealistic schedule, with too little funding.

Which ACS member benefit have you found most valuable?

Connecting with fellow professionals in the field through ACS events, webinars, and forums has provided me with valuable insights, industry knowledge, and a supportive community.

How has the ACS membership supported your career journey in tech?

My ACS membership has been instrumental in my early tech career journey. Although I'm still in the process of securing my first job, ACS has already provided valuable support. Through ACS, I've connected with experienced professionals who've shared their knowledge and insights, broadening my understanding of the industry. The access to educational resources, webinars, and job listings tailored to my field has been immensely helpful.

What do you know about the ACS now, that you didn't know before you were a member?
Before becoming an ACS member, I had a limited understanding of the scope and benefits of this professional association. What I've come to know since joining is that ACS is not just an organization; it's a dynamic community of tech enthusiasts and experts who are deeply committed to advancing the field.


What is a tech related project or achievement are you most proud of?
As mentioned before I'm proud of the successful completion of a large-scale IoT project involving 5000 nodes. This project was meticulously designed and implemented entirely by me, utilizing Cisco Packet Tracer as the primary simulation and testing environment.
What are your career goals and who is supporting you getting there?
My career goals are firmly rooted in the networking and cybersecurity domain. I'm dedicated to pursuing a path that allows me to excel in these fields, continuously learn, and contribute to the ever-evolving landscape of technology. I've received invaluable support, particularly from Alannah Grech. She has graciously introduced me to key professionals in these fields, providing insights, mentorship, and networking opportunities.

Is there another ACS member who you would like to shout out who may have helped you on your career goals, or worked together with recently that deserved to be recognised?

I haven't had the opportunity to connect with any other ACS members who have directly contributed to my career goals. However, I remain open to the possibility of forming valuable connections within the ACS community in the future.

Are you currently looking for a job within the tech industry? If so please provide more information on what type of role you are looking for and location.
Yes, I'm actively seeking a job within the tech industry, specifically in the areas of networking and cybersecurity. I'm open to opportunities anywhere in Australia. My ideal role would involve network engineer, network administration, cybersecurity analysis, or a related position that allows me to apply and expand my skills in these domains

What is the key piece of advice you would give to a student or emerging professional entering the industry?
The most valuable advice I can offer to a student entering the industry is to never underestimate the power of networking. While I'm currently a recent graduate, I've found that connecting with professionals within your field can be incredibly beneficial. So, my suggestion is to proactively seek out and engage with professionals in your domain – you never know where these connection.

How can others contact you if they are interested in connecting and knowing more?

Please feel free to reach out via email at gauresh.bamane@gmail.com or connect with me on LinkedIn https://www.linkedin.com/in/gauresh-bamane

If you would like to be featured in our ACS QLD Member Spotlight Series please email Alannah.Grech@acs.org.au.