ACS Qld Gold Coast Chapter Update by Mat Eames
Highlights
The ACS Qld Gold Coast Chapter have had a very productive year, with some amazing local events delivered.
Hear from outgoing Chair Mat Eames on the latest Gold Coast Chapter updates and events.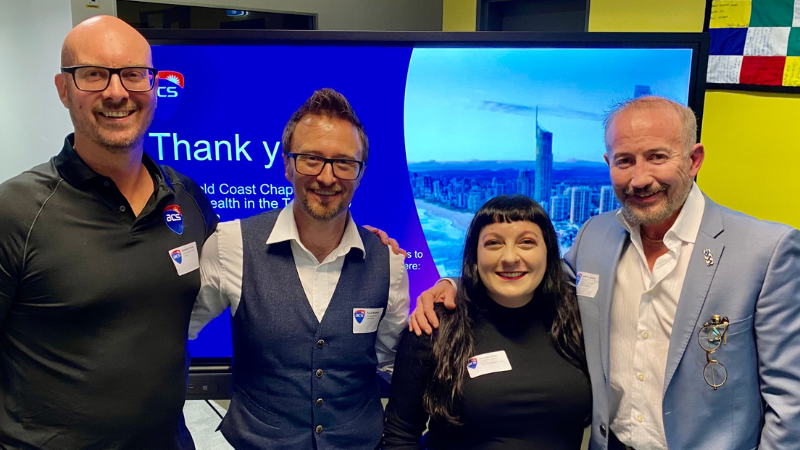 I have had the privilege of being a part of the ACS Gold Coast Chapter for numerous years, serving as the chair for the past two years. Working alongside an incredible team who share the same passion for the Gold Coast is awesome, and it's been inspiring to witness our local mission, "To grow and connect the tech industry in our community," take shape. The chapter has continues to dedicated its efforts to three key focal points:

- Facilitating conversations between students, parents, and various career pathways.
- Showcasing the tech industry's presence on the Gold Coast.
- Promoting a culture of fun and networking.
Our events have seen participation from up to 130 attendees at our largest event, and we have established fruitful collaborations with organizations like the ICT Forum, consistently working together to organize events on the Gold Coast. We take pride in our reputation as strategic advisors within the ICT industry.

We extend our gratitude to our higher education partners, TAFE, Griffith, and SCU, who generously provide venues for our events and foster connections with the emerging professional network.
Our event portfolio is diverse, ranging from exploring the latest AR & VR technology and the metaverse to engaging with Gold Coast City Council about their digital future plans, and delving into career development and pathways, also tackling mental well-being in our fast-paced industry. We've had the privilege of hearing from renowned global leaders in their respective fields. Notable figures include:


- Jamie Wilson, Founder and Executive Chairman, Cryptoloc
- Luisa Grant, ICT Industry Skills Advisor to the Queensland Government, Australian Computer Society
- Professor Ryan Ko, Bid Leader – MegaCRC; Chair and Director – UQ Cyber, The University of Queensland
- Anthony Stinziani, Chief Information Officer, City of Gold Coast
- Benjamin Di Marco, Cyber and Technology Risk Specialist,
- Conor Naughton, Digital Forensics and Incident Response Lead, Solis Security
- Dr Jeffrey Adams, Consultant Psychiatrist, Evandale Practice
- David Rudduck, CEO, Solis Security and CFC Response, Australia
As we approach the end of the year, we eagerly anticipate our Gold Coast Leader's Breakfast at Robina TAFE on Thur 30 November. This event will feature a range of impressive Gold Coast tech leaders, and you can register here now to secure your complimentary place.

I am also excited about the upcoming year, as Paul Walters takes the reins from me as the ACS Gold Coast Chair. Paul, an experienced Operations Manager within a local Gold Coast service provider, brings over 15 years of ICT expertise spanning education, large enterprises, and small businesses. He firmly believes that by aligning technology with business objectives, we can collectively achieve great feats and foster growth. Paul's energy and dedication I see will continue to drive and grow our ACS Gold Coast chapter purpose in 2024, and I and the team extend congratulations to him as he embarks on this new journey with ACS.

We look forward to your presence at our upcoming events and in 2024. Please stay updated by visiting our events page on the ACS website (search by QLD and Gold Coast Chapter events will display) and keep an eye out for direct emails to Gold Coast located members on upcoming events.