Introducing NSW BEC member - Arun Kannan MACS Snr CP
Highlights
Arun is an elected NSW BEC member and an experienced head of innovation.
He's been focusing on AI, Data Science, Emerging Technologies and Innovation Management, and shares his views and tips to strive in the ICT industry.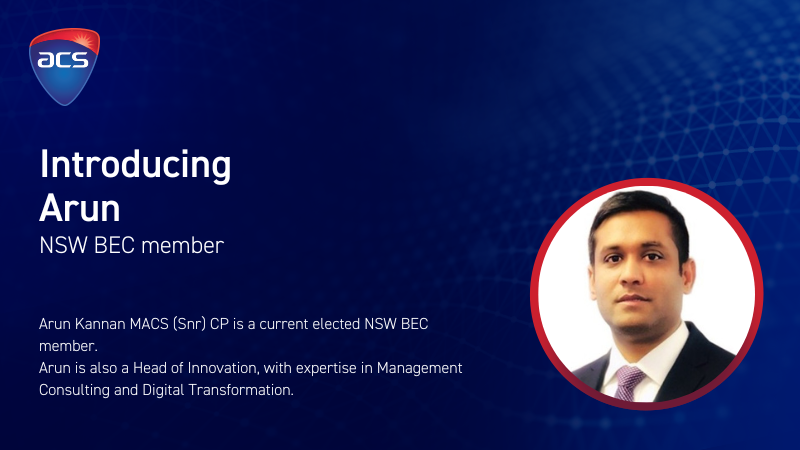 What do you enjoy most about working in the tech industry?
Passionate about the dynamic tech industry, I thrive in its fast-paced nature and embrace the constant innovation. Being at the forefront of cutting-edge technologies, collaborating with talented individuals, and making a meaningful difference is truly rewarding.
What is the key piece of advice you'd give to your younger self?
Embrace failure as a learning opportunity, take risks, step out of your comfort zone, and trust in your abilities to overcome obstacles and achieve successes.
Tech changes fast. How do you keep your tech skills up to date?
I stay ahead in the rapidly evolving tech industry by proactively learning through courses, forums, and communities. I seek emerging trends, attend workshops, collaborate with peers, and engage in hands-on projects for practical experience. Constant learning keeps my skills current for success in this dynamic landscape.
What is your greatest challenge as a leader?
Constantly pushing the boundaries of innovation, managing risk, fostering a culture of experimentation, and ensuring alignment between innovation initiatives and business goals.
How has ACS membership supported your career journey in tech?
ACS membership has been pivotal in advancing my tech career. It connects me with industry leaders, fosters growth through collaboration and events, and offers exclusive resources for continuous development.