Guide and eligibility for using the ACS Canberra Hub as a meeting place
28 Feb 2023
Highlights
ACS members are invited and encouraged to visit and use the Canberra Hub during business hours
The Hub is a custom-built collaborative space for members to drop by and use as a hotspot for meetings and events
Meeting room hire is available to members and non-members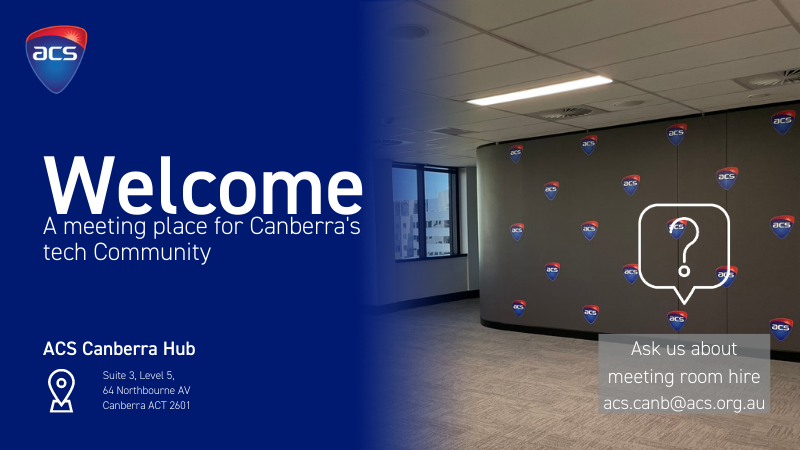 ACS Canberra Hub - the meeting place for Canberra's tech community.
Address: Suite 3, Level 5, 64 Northbourne AV, Canberra ACT 2601

Contact: (02) 6143 5503 | acs.canb@acs.org.au
*If you wish to book a meeting room, please complete the meeting room booking form online.
Access Guidelines
ACS members are invited and encouraged to visit and use the Hub during business hours. The Hub is a custom-built collaborative space for members to drop by and use as a hotspot for meetings and events.
Please note: As ACS responds to COVID-19, please refer to the latest updates for member and visitor information regarding accessing the ACS Canberra Hub.
Facilities include:
Private and collaborative workspaces
High-tech meeting rooms with click-share and conferencing facilities
Free Wi-Fi
Full kitchen with coffee and tea amenities
Room seating capacities (Canberra Hub)
| | | | |
| --- | --- | --- | --- |
| Seating style | Boardroom | Media room | Event room |
| Boardroom style | Up to 10 | N/A | N/A |
| U-shaped | N/A | N/A | Up to 40 |
| Theatre style | N/A | N/A | Up to 60 |
| Cabaret | N/A | Up to 3 | Up to 45 |
| Cocktail | N/A | N/A | Up to 75 |
*Please see the below information in relation to member access to the ACS Canberra Hub. 

Eligibility & Access
Individual Member Access

*Only certain members are eligible to book a meeting room, see below:
Membership

Type/or level

Hub Access

Guest Access

Wi-Fi*

Meeting Rooms*

Printing*

Bronze

Yes

+1

Yes

N/A

N/A

Silver

Yes

+2

Yes

Limited

Limited

Gold

Yes

+3

Yes

Yes

Yes
*Please note ACS account managers should log member bookings in Salesforce. 
The Hub Team will complete monthly audits to ensure that the meeting rooms are being used according to eligibility & our fair use policy. 
Limitations apply to silver level bookings of meeting rooms (maximum of 2 hours per month) and printing (maximum 10 pages per day).
All member levels are subject to monitoring and an 'acceptable' or 'fair' level of use, so as to not monopolise the services or disadvantage fellow ACS Members.
Membership types explained:
| | |
| --- | --- |
| Bronze Members | Members, Senior Members, Honorary Members, Associate Members, Skills Applicants, Honorary Fellows, Professional Year Members, Students & Subscribers |
| Silver Members | Fellows, Certified Technologists & Certified Professionals |
| Gold Members | Elected Members, Honorary Life Members, Past Presidents |
Professional Partnership Program (PPP) - Eligibility & Terms for Meetings Room Bookings (no catering)
Monthly Allocation

Room booking for PPP Organisation

Associate PPP

Certified PPP

5+ Members

 X

1 Hour

15+

1 Hour

2 Hours

25+

2 Hours

4 Hours

100+

8 Hours

16 Hours
Terms & Conditions for use the Canberra Hub#1:
*Bookings are subject to availability and must be made a minimum of 7 business days in advance
**Bookings price are ex GST (if any).
***Any bookings made before 9:00am, and 5pm to 7pm will incur an additional $100 ex GST charge
Time allotment for PPP member bookings is per month. Unused time does not roll over month to month.
Associate PPP = A PPP where the majority of members (50%+) are associate level.
Certified PPP = A PPP where the majority of members (50%+) are CP or CT.
Hours must be used in 30min increments.
Rooms are self-service; therefore, no AV support, catering, or staff will be provided.
You own arrangement with preferred supplier for catering.
If you need ACS to source catering, a $50 flat service fee will apply in addition to the agreed catering costs.
Rooms are required to be left as they were found. ie. Please clean up after yourself otherwise you may be charged a fee.
When the Event room is used for meetings/events with non-members between 9:00 am and 5 pm (Mon-Fri), room hire costs apply (see below). If a discounted rate is provided, an ACS Representative will give a 5-minute introduction about ACS to guests at the start or end of the meeting/event.
Room hires rate at the Canberra Hub (Mon-Fri, 9am – 5pm)
Room

2 hours

Half-day (4 hrs)

Full day (9am-5pm)

Event room

$200 Member & Non-member

$400 Non-member

$200 ACS member

$800 Non-member

$400 ACS member

Boardroom

$100 Member & Non-member

$200 Member & Non-member

$400 Member & Non-member

Media room

$0 (members only)

$100 Members only

$200 Members only
Notes & Conditions for use the Canberra Hub#2:
If the meeting room is booked by ACS BEC & staff for ACS related, the purpose of the booking must be aligned to ACS' strategic initiatives and are subject to approval by ACS.
Bookings may be approved for:

Team offsites & staff workshops
Client presentations
Hosting events, workshops, or courses
A minimum of 5-10 minutes per booking must be made available to ACS to contribute content for the audience, this may include but is not limited to:
A presentation on how staff can best use their ACS membership

A presentation on the benefits of ACS membership

A technical or thought leadership keynote presentation