Behind the scenes series#4: ACS Canberra Team Spotlight
Highlights
To help you get more out of your membership, we want to introduce ourselves and what we do, so you can connect more with us. We are pleased to be running a series of articles introducing our staff and BEC members.

This week, we spoke with Alex Rumsey and asked him what motivates his day-to-day work at ACS.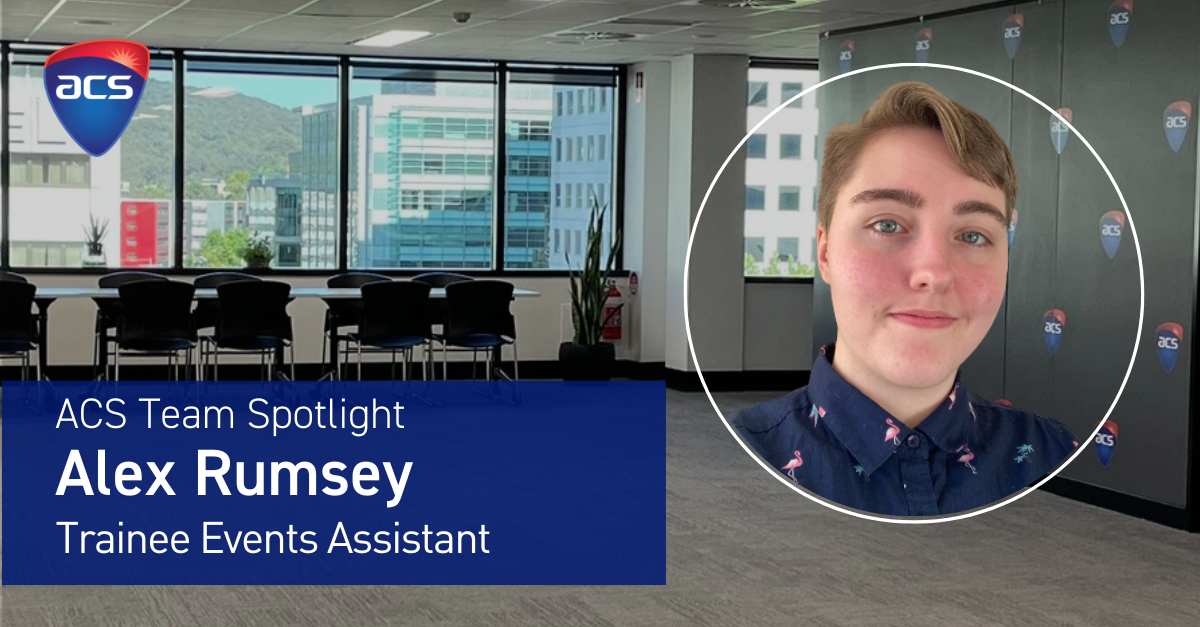 Get to know Alex Rumsey, Trainee Events Assistant, ACS Canberra.
Alex has been working with the ACS for nearly 8 months during his traineeship while completing a Certificate III in Business Administration. Alex is the trainee event assistant for the Canberra branch, and also supports the Member Service team when given the chance.
"All the teams I've collaborated with has given me incredible support during my transition into the workforce. I couldn't have asked for a more inclusive and educational environment to learn in than the culture the team has created in the workspace." he said.
His responsibility primarily lies around admin management of events and maintenance of the Canberra Hub space. Alex took this opportunity to develop his problem-solving skills by familiarising and experimenting with the equipment and software required to running any form of event allowing him to now effectively facilitate their smooth running.
When not preparing for an event, Alex can be found assisting the team and other areas of the business on projects such as the Support Women Transitioning to an ICT career program and Supporting Student Membership initiative.
"A key part that has come out of the ACS strategy realignment for me, personally, is the shift to become community focused. It's created a bigger bridge to have more interaction with our members and vice versa." he stated.

"This change has come at a perfect time as we are keen to interact and develop a stronger relationship with our international members, to help them become a key part of our tech community. By providing networking opportunities with professionals through events at the new Hub, we aim to deliver the value of continuing to be a member with us." Alex added.

In Alex's free time, he is always looking for new ways to express his creativity and explore his passions. He loves sharing his digital art with the community and takes pride in the positive feedback he receives. When not drawing, Alex immerses himself in the latest video games, exploring immersive new worlds. He's also an avid reader and music lover, with a diverse taste exploring all genres. And lastly, Alex can't go a day without keeping up with the latest trends and developments in the world of technology.