Everyday tips for Cyber Safety
24 November 2021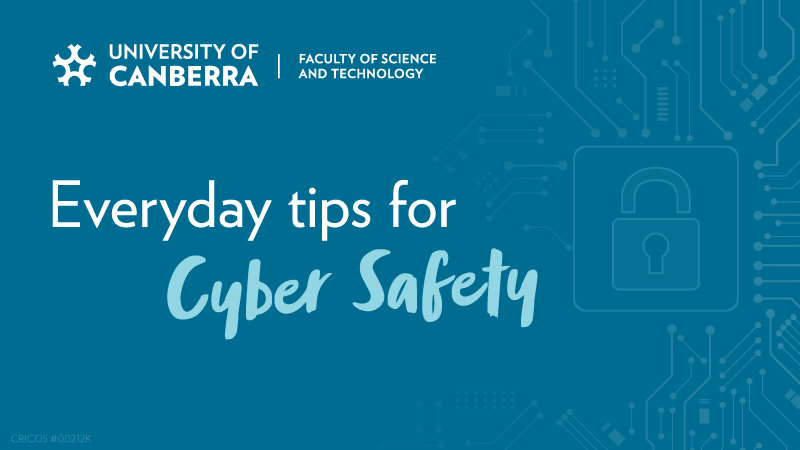 The need for cyber security is a fact of life in today's day and age.
Already one of the fastest-growing sectors in the world, cyber security has seen its growth accelerated by the COVID-19 pandemic, as an increasingly decentralised workforce quickly becomes the new norm.
Cyber safety is a need that's been underscored by the events of the past two years, highlighted by the various cyber-attacks targeting the Australian Parliament, media organisations, the aged care sector and even a food processing centre.
Cloud-based systems, globalisation, digitalisation and the rapid expansion of the Internet of Things, have taken security risks to a completely new level. Everyday devices like smart TVs, wearable health technology and smart home security have created an ecosystem full of possibilities, but also risks.
According to the Australian Cyber Security Growth Network (AustCyber), 2020 saw Australians spend $5.6 billion on cyber security from national and international providers. AustCyber also projects that by 2024, national expenditure on cyber security will grow to a whopping $7.6 billion – and that globally, it will cost upwards of US$207.
While the sector seems to be widely-viewed as an industry dominated by systems and network experts, the reality is that cyber security issues exist in all areas and levels of business. As the sector continues to expand, the demand for skilled cyber security professionals is increasing exponentially.
If an organisation wants to remain competitive and resilient, cyber security must drive decision-making and be embedded throughout all processes and protocols. This includes investing in skilled individuals, who are capable of understanding, analysing, articulating and managing cyber security threats to bridge the gap between technology and business experts.
UC's top tips for everyday cyber safety:
Ensure your computer and mobile phone are equipped with an antivirus program, and that updates are automated or manually initiated regularly as updates often contain security patches for newly-discovered threats.
When working remotely, always use only your organisation's Virtual Private Network (VPN) for access. Otherwise, follow your organisation's procedures to minimise risk.
Avoid free WiFi in public places, especially when conducting financial transactions or working with sensitive information.
Make sure you use strong, effective passwords for all accounts. Use a combination of letters, numbers and special characters. Change passwords every two or three months.
Don't click links in emails or text messages, especially if they are unsolicited.
Verify the sender of any email you get by hovering your cursor over the address link to check it.
Familiarise yourself with how various organisations relevant to you operate, so you'll know to be extra alert if you receive a link in an email or text.
Dr Abu Barkat Ullah is an Associate Professor in Cyber Security, at the School of Information Technology and Systems, Faculty of Science and Technology at the University of Canberra. He is the convenor for the fully online Graduate Certificate in Cyber Security Management, a course jointly offered by the Faculties of Science and Technology, and Business, Government and Law.
The Graduate Certificate in Cyber Security Management combines tech and business management knowledge to equip graduates with the skills to navigate the cyber security ecosystem; understand, analyse and articulate threats; create and manage responses and solutions; and ultimately, embed cyber security resilience within any organisation.
Note: Candidates in the Graduate Certificate in Cyber Security Management program can now also apply to the Australian Defence Force Cyber Gap Program