Introduce NSW BEC Chair – Helen McHugh MACS (Snr) CP
Highlights
To help you get more out of your membership, we want to introduce ourselves and what we do, so you can connect more with us. We are pleased to be running a series of articles introducing our staff and BEC members.

This week, we spoke with Helen and asked her a few questions.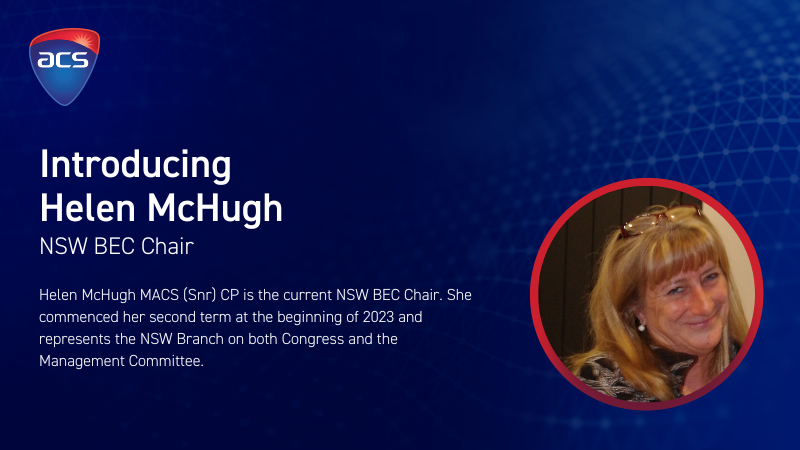 What do you enjoy most about working in the tech industry? 

I love bringing solutions to our business owners. IT, at the end of the day, is people using Tech to help their everyday lives.
What is the key piece of advice you'd give to your younger self?

Back yourself more. Still chase the big projects but be a little more forward in negotiating your terms. If you think you are good enough, you probably are. You are able to negotiate.
Tech changes fast. How do you keep your tech skills up to date?

I keep up to date in many ways. Firstly, ICT is a big body of work and covers a broad 'Body of Knowledge'. I like to pick my favourite and make sure I keep up by practicing that skill.
Your preferred path is probably where you career has evolved to. Mine is data and lists and so Databases, Knowledge Management and Project Management. To keep up with it all. I have networks, like at our Branch Forums, where we get together and share what we are up to.
Being a Mentor has also helped me to keep up to date and I strongly recommend that to members who are ready to give back. It is beneficial to both mentee and mentor.
What is your greatest challenge as a leader/ business owner?

Confidence…as a female in this industry the 'Imposter syndrome' creeps in. Until the need or urgency happens and then it is let's go.
How has ACS membership supported your career journey in tech?

Community and the opportunities to network.
Professionalism. I am proud to be a Certificated ICT Professional.
As the NSW Chair and Management Committee member now going into my second term, I have been able to contribute to the business transformation of ACS. It has been a huge workload but it has been rewarding in bringing my 40+ years of experience to help an organisation turn around and to be the best it can be!!