Introducing ACS' Workforce Development Team
Highlights
To help you get more out of your membership, we want to introduce ourselves and what we do, so you can connect more with us. We are pleased to be running a series of articles introducing our staff and BEC members.

This week, we spoke with ACS Workforce Development Team and asked about their role at ACS and what they can do to help you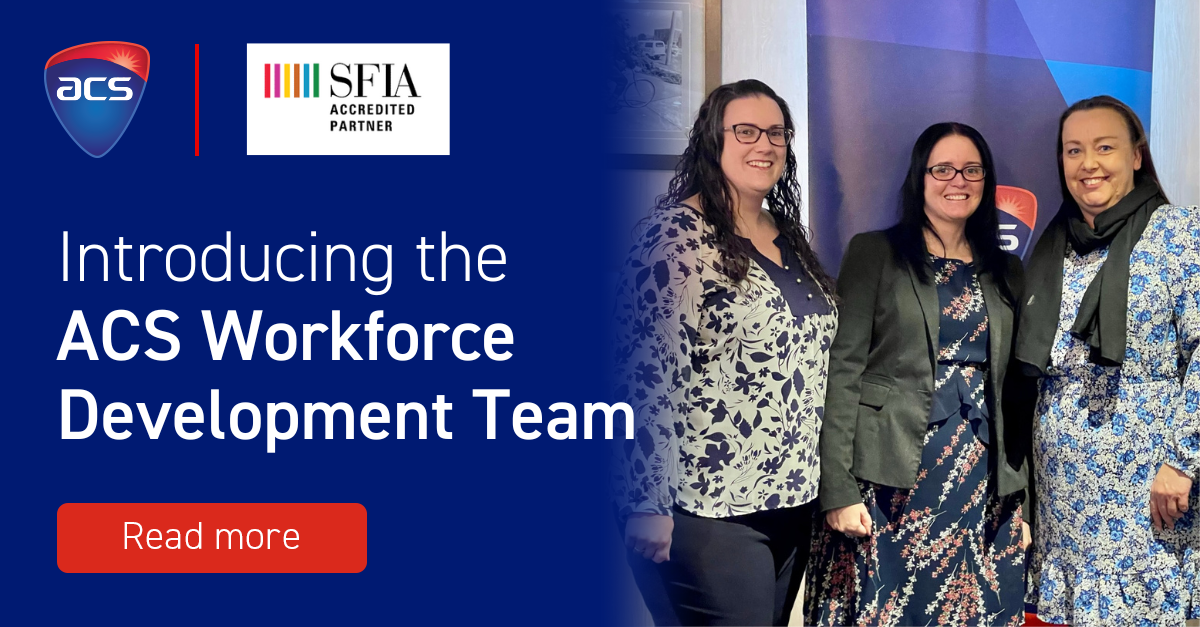 Get to know ACS's Workforce Development Team.
An experienced team, including:
ACS' WFD works directly and specifically with our business, government and not-for-profit partners, and their tech and digital professionals (our members), to benchmark their skills - existing and future.
Through the skills benchmarking activities, using SFIA – the Skills Framework for the Information Age, an independent, internationally renowned framework - we:
identify critical skills for all modern tech, digital, data, security, AI and related support and management roles
deliver workshops through which individuals identify their own day-to-day and week-to-week skills
validate individuals' skills to an independent industry standard and offer ACS certification against ACS' CBOK
provide skills uplift advice and individual development plans with direct reference to ACS' Learning Accelerator
finally, partners receive team, business unit and whole-of-technology skills and development roadmaps – against which to drive future skills plans and resource commitments
Additional WFD services include:
Development of SFIA-focussed position descriptions
Provision of bespoke skills and training programs
Tech and digital organisation structure review and recommendations
Understanding SFIA and SFIA Accredited Skills Assessor training
Currently, we are offering the Understanding SFIA Course (18 Apr) & Accredited Skills Assessor Course (19 Apr) to all members and non-members in Canberra, this is an excellent opportunity for you to use your professional development fund to pay for the course before the end of the financial year, and all PPPs are welcome to book tickets using your ROI funds (if any). *The cost of your PD is tax deductible, so please check it with your accountant.
ACS WFD activities are fee-for-service and you can request further information via email at sfia.skills@acs.org.au
Please click the link below to register:
Find out more about what ACS can do for you, your membership benefits, and what upcoming events we have planned for you.