ACS Academics Bulletin – Profile on Professor Mamoun Alazab
18th July 2023

About Mamoun Alazab
Mamoun Alazab is a full Professor at the Faculty of Science and Technology, at Charles Darwin University (CDU), Australia. He is the inaugural director of the NT Academic Centre for Cyber Security and Innovation (ACCI) at CDU. Currently, he is the Discipline Chair for Information Technology at CDU. He is the Founding Chair of the IEEE Northern Territory (NT) Subsection. He is a cyber security researcher and practitioner with industry and academic experience.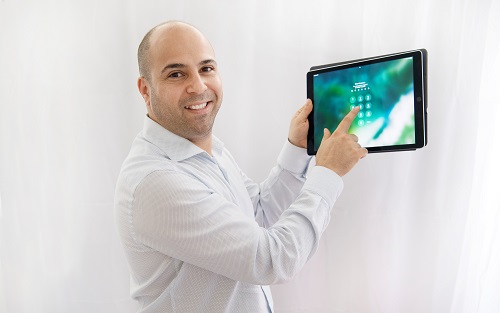 Research interests:
His research is multidisciplinary and focuses on cyber security, data analytics and digital forensics with a focus on cybercrime detection and prevention. He looks at the intersection use of AI as an essential tool for security and privacy, for example, authorship attribution, access control systems, detecting attacks, crime investigation, analysing malicious code, or uncovering vulnerabilities in software.
Contributions to the field:
Governments and organisations are now facing a "new normal" of malicious attacks, given the frequency and sophistication of cyber-attacks, especially now with the advancement of AI to facilitate Cyber Offensive Operations.
The rise of AI-powered obfuscated malware is predicted to even increase further making it easier for cyber criminals to operate remotely and anonymously, which makes tracing and profiling the source (or attribution) of an attack - for the purpose of deterrence and protection - extremely difficult. Alazab aims to develop a new perspective in the study of cybercrime and distribution of malicious activities by studying the authorship of malicious binaries and cybercrime patterns. His research is multidisciplinary and based on cyber security with a focus on cybercrime detection and prevention. This includes the intersection use of Artificial Intelligence (AI) and Machine Learning as essential tools for cybersecurity. He has a strong track record in innovative research as demonstrated by his extensive publication list. The analysis of the data has helped to devise crime reduction and prevention strategies, enhancement security, and improve security and privacy in multi- user, multi-device systems that affect the cyber-physical environment. Alazab's continues to identify new trends in the use, distribution of malicious software, and profiling of malicious attacks to protect the Australian cyberspace security His research has expanded the understanding of malicious attacks and trends.
His research addresses ways to improve cybersecurity by focusing on the role of the Internet in facilitating crime based on the unique challenges presented in a constantly changing environment. He focuses on cybercrime detection and prevention by specifically looking at the nature of attacks through malware and advanced persistent threat. Much of Alazab's work has been done through establishing partnership linkages within the Australian government, policing, and local industries, which aims to reduce the impact of cybercrime, and guide cyber-safety responses.
Awards and recognition:
He received several awards including: the NT Young Tall Poppy of the year (2021) from the Australian Institute of Policy and Science (AIPS), it recognises his excellence in research as well as enthusiasm for communicating science beyond the walls of the laboratory. Japan Society for the Promotion of Science (JSPS) fellowship (2015) through his nomination from the Australian Academy of Science, IEEE Outstanding Leadership Award (2020) and (2021), the CDU Exceptional Researcher Award in (2020) and (2021). He ranked in the top 1% of highly cited researchers and 0.1% of influential researchers in the Clarivate Highly Cited Researcher list for 2022.
Communication:
Mamoun has written government publications on cybercrime. He devoted considerable time to communicating his research with members of the public, technical, non-technical and policymakers through publications in non-academic outlets. He has served as a program committee member in many national and international conferences. This year, he co- organised the "Tackling Disruptive Technology in the Era of Digital Transformation" conference that took part in Seoul, South Korea in April. He has published more than 300 research papers in journals and conference proceedings
Mamoun Alazab - Professor at the Faculty of Science and Technology, at Charles Darwin University (CDU), Australia
Connect with Mamoun on LinkedIn to learn more about his work and his contribution to the industry.

As the trusted leader in the tech sector, ACS is pleased to bring you Academics Bulletin – headlines from the world of tech Academics where we facilitate a greater connection between academia and the tech industry.