The University of Canberra (UC) collaborates with ACS to lead the development of ICT professionalism
Highlights
How UC and ACS work together to educate the future generation of tech experts

Why UC enters a Professional Partner arrangement with ACS

How UC supports the professional development of ICT professionals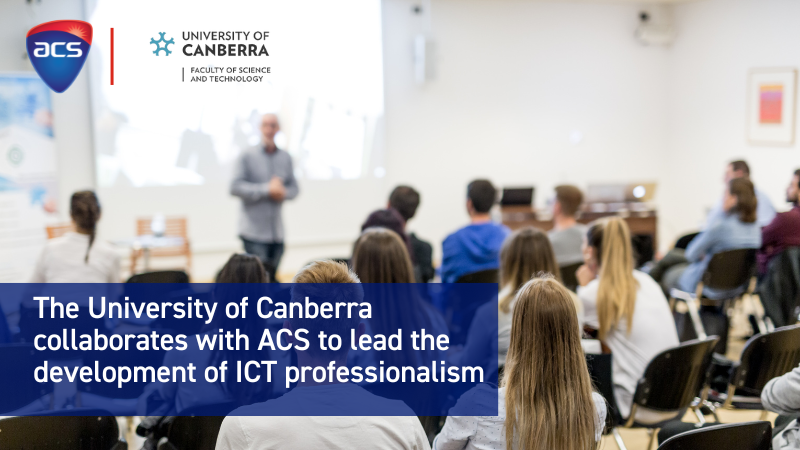 UC and ACS, over the years
Driven by our value 'Walk together', we continue to build on our active relationship with the ACS through seminars, guest lectures, memberships for staff and students and celebrating high achieving students. Some of these include the annual Career Conversations event that got a packed room wherein tech professionals to talk to students about their experience transitioning from study to work. And a presentation on IT professions and different career pathways in the first year 'Introduction to IT' class.
"The partnership between UC and ACS demonstrates the strength of this relationship between education and industry, with both academics and students benefiting from professional development and networking with industry leaders." says Dr Luke Nguyen-Hoan, Program Director, Information Technology and Systems.
Why the Professional Partner Program
The Professional Partner Program (PPP) allows us to further our partnership with ACS. The PPP is designed to support the professional development of staff and students and opens more opportunities to engage with the tech community. We believe this partnership will contribute to filling the tech skill gap.
"Engaging with a professional association like the ACS allows our students to develop the essential skills necessary to be graduate ready, such as networking with like-minded professionals, staying up-to-date with the latest trends in their field, accessing professional development resources," says Caitlan Williamson, our Senior Student Engagement and WIL coordinator.
"Becoming a PPP partner helps our academics with a holistic approach to the development of ICT professionalism and continuing professional development," says Kumudu Munasinghe, Head of the School of Information Technology and Systems.
About UC and the School of ITS
The University of Canberra continues its commitment to professional development for staff and students with industry and community collaborations. The School of Information Technology and Systems at UC is at the forefront of tech ensuring our students are work-ready, world ready and future-ready with our ACS-accredited undergraduate and postgraduate courses. Our expertise lies in a range of different tech areas from cloud computing to data science. We currently have over 700 students commence with us in 2023 across seven different courses. These students come from diverse backgrounds, whether its recent high school graduates or industry professionals in mid or senior-level management.
Our dedication to teaching and research in the field of technology coincides with ACS in supporting ICT professionals.