Tips for creating an effective and productive relationship
2 August 2023
One of the most valuable ACS memberships is the Mentoring Program.
Successful mentor-mentee relationships should be fulfilling and beneficial for all involved and

We recognise that building purposeful relationships starts with trust, and building trust relies on being able to communicate effectively.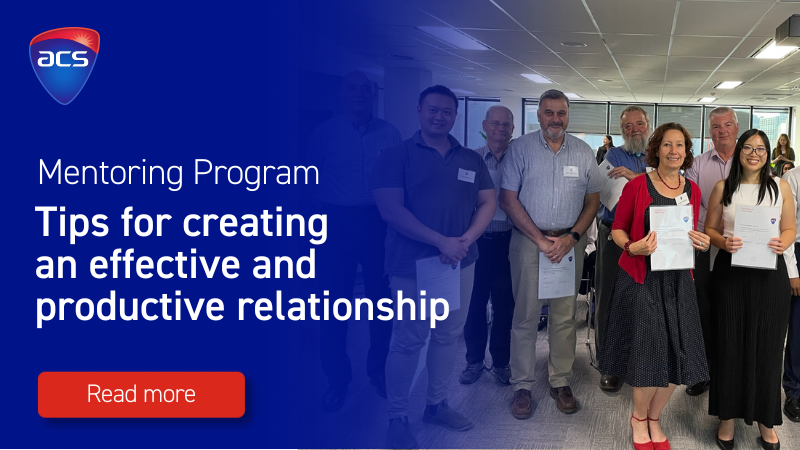 Members help members, and mentoring matters. There are benefits for both mentors and mentees if we do it right in the beginning of creating a good relationship.
Here are ten tips for a more effective and productive relationship.
1. Keep communications open

Mentor: Help your mentee set realistic expectations. Also, if you know you will be unavailable because of business or personal travel, let them know.
Mentee: Be upfront. Let your mentor know what your goals are and what you hope to take away from the program.
2. Offer support
Mentor: Encourage communication and participation. Help create a solid plan of action.
Mentee: Remember that your mentor is there for you but is only a guide.

3. Define expectations

Mentor: Help set up a system to measure achievement.
Mentee: Review your goals. Make sure your mentor knows what to expect from you.
4. Maintain contact
Mentor: Respond to your e-mails. Answer questions and provide advice, resources, and guidance when appropriate.
Mentee: Be polite and courteous. Keep up with your e-mails and ask questions.
5. Be honest
Mentor: Be truthful in your evaluations, but also be tactful.
Mentee: Let your mentor know if you don't understand something or have a differing opinion.
6. Actively participate
Mentor: Engage in your own learning while you are mentoring, collaborate on projects, ask questions and experiment.
Mentee: Listen. Ask if you can observe your mentor's practice if he/she is local.
7. Be innovative and creative
Mentor: Become a trusted advisor. Share your ideas, give advice, and be a resource for new ideas.
Mentee: Offer ideas on what activities and exercises you can do together.
8. Get to know each other
Mentor and Mentee: Remember that people come from diverse backgrounds and experiences. Get to know each other on an individual basis.
9. Be reliable and consistent
Mentor and Mentee: The more consistent you are, the more you will be trusted.
10. Stay positive
Mentor: Recognize the work the mentee has done, and the progress made.
Mentee: Remember that your mentor is offering feedback and not criticizing.
The ACS Learning Accelerator has a number of short courses on trust building through effective communication, giving feedback and becoming a great listener. These will help you:
Explore the necessity of clearly presenting your information and intentions as the basis of effective communication
Ensure that your message is delivered in such a way so to maximize its impact and how managing your emotions allows you to adapt to the emotional needs of others to build trust.
Be mindful how your verbal communication combines with body language and vocal tone to better convey your message effectively.
Log in to your ACS membership portal to access the ACS Learning Accelerator short courses.
At the completion of each course, you will receive a Certificate and CPD hours when scored a minimum of 70% on the test.
Volunteer to Be a Mentor
Members help members! Share your professional experiences and knowledge with ACS members who have a need in their profession life. Our next round of Mentoring program will start in Aug/Sept 2021, please contact ACS Canberra Branch acs.canb@acs.org.au if you are interested in being a mentor/or mentee.