Recognition of ACS Fellowship: Confronting the Quantum Threat
13 Sept 2023
Highlights
The Canberra Branch will recognise the contribution of a new ACS Fellow at an upcoming event
We will be presenting a certificate to our newest Fellow, Vikram Sharma, who is a technology entrepreneur in the cybersecurity field with global scope.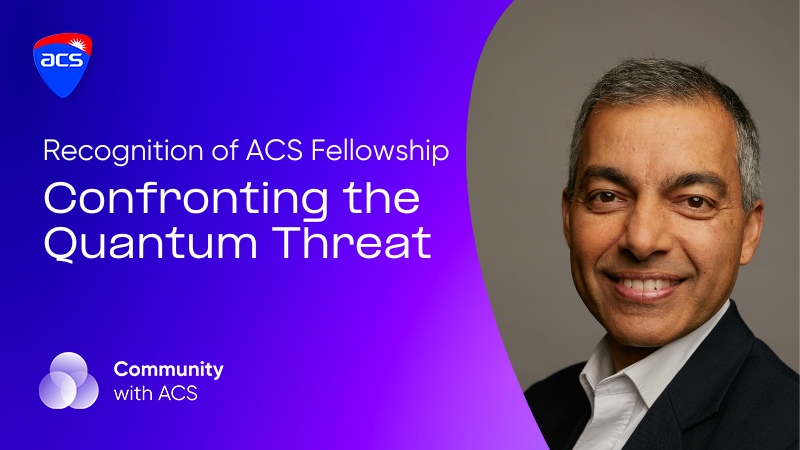 Quantum computing isn't real yet. But it may well become real. If and when it does, one of its applications will be the ultra-fast breaking of cryptographic keys.

That means that all crypto used at that time for hiding content and signing data will have to use techniques and keys that are enormously strong compared with those of today. However, it will also have implications for what will then be the past, but is right now the present. That's because the keys used right now to decrypt stored data suddenly won't be 'strong enough' anymore.
We see evidence of desperately low standards of data security every day. A great deal of data is being exfiltrated from companies and government agencies. So crypto-breaking applications of quantum computing may in time enable actors to access documents and data that they acquired long ago, but had been unable to break into. Access to or publication of much of that data will matter very little. But some will still be highly valuable or troublesome. Action is needed right now to protect such valuable or troublesome data against future quantum-enabled key-breaking.
The starting-point is to overcome a vital weakness inherent in current key-generation techniques. These depend on 'pseudo-random numbers' that are generated by algorithms from a randomization 'seed'. An example of a convenient seed is the lowest-order digits of a device's system-clock at the instant a key-generation run commences.
Vikram's early career included Masters of Science in computer science from the ANU and in management from Stanford, and an ANU doctorate in quantum physics. He combined that with three successful start-ups in both India and Australia. However, the contribution that stood out to the ACS's National Fellows Committee is the establishment and operation of a world-leading Australian company to address the cybersecurity challenges that quantum computing promises to bring with it.
He founded QuintessenceLabs in 2008, to build on his doctoral work. He has raised over AUD60 million in private and venture funding from prominent investors. The company has used those resources to achieve product deployments in over 15 countries, yet it has retained Australian domicile and 90% Australian ownership. It currently operates from footprints in both Brindabella Business Park at Canberra Airport and San Jose CA.
A central element of the company's offerings is a means of generating keys that avoids the determinism and hence predictability that is inherent in a mathematical formula that simulates randomness. Candidates for 'true' random number generation are naturally occurring physical phenomena, such as electromagnetic or thermal noise, or the rate of radioactive decay of isotopes. QuintessenceLab's approach leverages an effect known as quantum tunneling, whereby electrons in a diode tunnel randomly pass through a barrier.
The company's flagship product, TSF 400, has at its core a high-speed 'true' random number generator, combined with encryption key and policy management facilities, and a FIPS-validated hardware security module. Over a dozen Fortune 500 and equivalent organisations use the product today in mission-critical security applications.
The level of contribution to ICT that justifies elevation to Fellowship of the Australian Computer Society can be delivered in many ways, and in many sub-fields. The ACS National Fellows Committee sees Vikram's combination of leading-edge technology with business-building as a particularly exciting example of what creativity and boldness can achieve.
Sources:
https://www.quintessencelabs.com/
https://www.computerworld.com/article/3465261/the-random-number-generator-powered-by-the-quantum-crackle-in-the-universe.html
https://ia.acs.org.au/article/2021/aukus-a-boon-for-quantum-pioneer.html
About the ACS Canberra Hub
The Hub is a custom-built collaborative space for members to drop by and use as a hotspot for meetings and events. Meeting room hire is also available to members and non-members.
Click here to find out more about the room hire rate or click here to book a room for your next meeting/event.