CBR Member insights & monthly update
25 Oct 2023
Highlights
As we all know, the final quarter of a calendar year has become extremely busy for the tech sector, and it has been no different for the ACS Canberra branch.
This month we have been celebrating Cyber Security Month through events and participating in forums looking at the attraction and professionalisation of the cyber security profession.
Secure a ticket or a table, click here to attend the Leadership lunch event on 7 Nov. Otherwise, contact Jenalle.Bushby@acs.org.au if you have any questions or require assistance.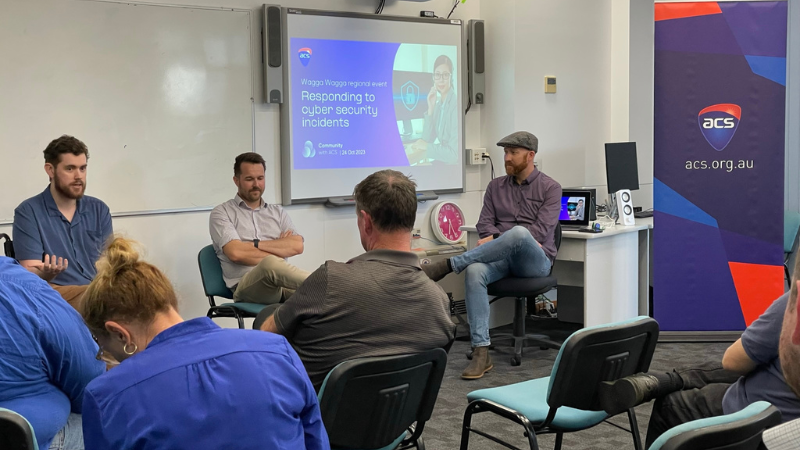 Cyber events

This month, ACS Canberra partnered with our PPP organisation, Bluerydge Pty Ltd to present two informative hybrid events. The first was an intriguing discussion about the Essential 8 maturing in innovation. It was the largest audience ACS Canberra has hosted for a panel discussion with approximately 50 people attending at the ACS Canberra Hub, and 200 people attending online. The audience was treated to insights from two significant leaders in this space from the Australian Government.
The second event was a discussion with several Bluerydge staff discussing the career transition to cyber security. ACS members Belinda Paterson, Charlie Hutchins, and Jim Boekel spoke about career pathways, transferable skills, and the tricks for transitioning careers. One attendee said that the event was motivation for those who are in a different field and want to transition to cyber.
The cyber event was followed by a great success of ACS Wagga Wagga Regional Tech Fireside Chat about "Responding to Cyber Security Incidents" on 24 Oct led by Michael (Mike) Meyer Snr MACS CP, Independent CIO and founder, M31 Consulting.
We have found that members are keen for more panel discussions so keep an eye out for them.
Professionalisation in cyber security
As the standards bearer for capability and skills, ACS has been part of an industry collaboration to discuss professionalisation in cyber security. While this is a national initiative, ACS Canberra has been working closely with the Canberra Cyber Hub to ensure that their cyber security framework projects are aligned. This month we hosted the Canberra Cyber Hub Tertiary Collaboration Taskforce meeting where industry and education providers were discussing attitudes, aptitudes a,nd skills required for Canberra's cyber security workforce.
Supporting students in Canberra
Over the past few months, ACS Canberra has rolled out a new initiative with PPP education providers offering complimentary student membership. To date, 66 University of Canberra students have taken up this offer. The offer is about to be rolled out to CIT Cert III/IV and Diploma students with CIT having come on as a PPP. It was also ACS Canberra's pleasure to attend the CIT industry night this month and for ACS Canberra Manager, Dr. Vicki Gardiner, to deliver the Occasional Speech at the UC Faculty of Science & Technology graduation.
Cultivating Australia's Role as a Cyber Security Leader - 7 Nov 2023
Don't forget, time is running out fast to register for the event on 7 November with a star studded panel discussing Australia's role as a cyber security leader in the region, and the role zero trust, the principle of least privilege and Essential Eight play in this. Panelists are:
Hamish Hamsford (Department of Home Affairs)
MAJGEN Murray Thompson (Defence)
Stephanie Crowe (Australian Cyber Security Centre)
John Karabin (NTT)
Secure a ticket or a table, click here. Otherwise, contact Jenalle.Bushby@acs.org.au if you have any questions or require assistance.
About the ACS Canberra Hub
The Hub is a custom-built collaborative space for members to drop by and use as a hotspot for meetings and events. Meeting room hire is also available to members and non-members.
Click here to find out more about the room hire rate or click here to book a room for your next meeting/event.