CBR fortnightly eNews & highlights - 19 July 2023
19 July 2023
Highlights
Feedback from some of the program participants ACS Canberra's Supporting women transitioning to an ICT career program
Member Forum on Blockchain
Upcoming initiatives & events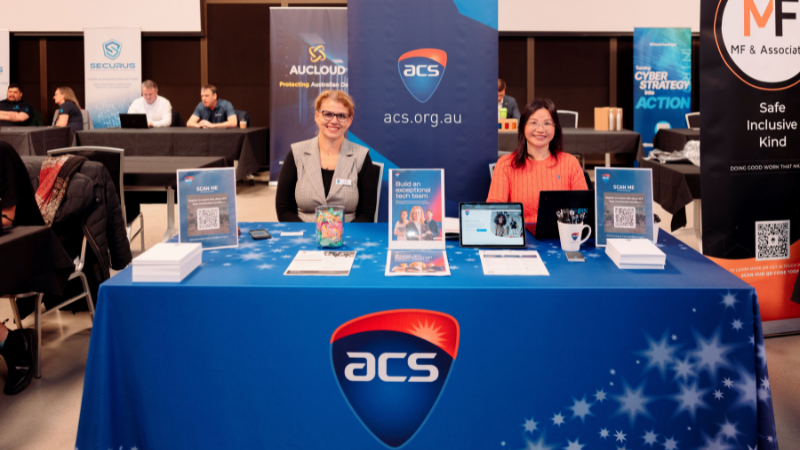 Since the finish of ACS Canberra's Supporting women transitioning to an ICT career program, we have been receiving unsolicited feedback from participants. We would like to share this feedback to illustrate some of the great work being done by ACS Canberra and the rest of the branches in boosting the technology sector's diversity.
Feedback from some of the program participants - ACS Canberra's Supporting women transitioning to an ICT career program
Elena Kushner, "A year ago, I started from nothing, and was completely lost and unaware where I was moving to in my career. My mentor was able to create an open and supportive relationship with me. She listened carefully, shared her feedback, and helped me realise how important it was to identify the transferrable skills I had and get confidence in the fact that these skills were very important and could help me find my first job. She shared her stories about imposter syndrome with me, and really inspired me to gradually build confidence and my self-awareness.
What an amazing year it has been! I can't believe we have gone so far and have reached the results that are obviously seen.
At the moment I am employed by Accenture Australia in a Cyber Security area. I enjoy my job much. I am looking forward to maintaining my relationship with my mentor and achieving much more in the future."
Ming Li also reported, "This has really been a life-changing program for me as I am now working as a Data Analyst for an organisation in Victoria. I had tried looking for ICT opportunities in Canberra, but these were quite limited as I only had permanent residency and most roles required citizenship.
Anyway, I am happy to report that my new role is vastly more disability-friendly, with work-from-home being an option around 40% of the time compared to my previous role where I needed to be on-site to get work done.
We are aware of at least four participants who now have tech positions as a result of the program and are hoping that this grows over the coming six months. Several of the participants have indicated that they will continue to be ACS members and ACS Canberra looks forward to continuing to support their journey."
13 July: Canberra Cyber Hub's Protecting Our Future: Securing the Digital Domain Cyber Career Symposium
Last week, the ACS Canberra team participated in the first ACT Uncharted Territory festival as part of the Canberra Cyber Hub's Protecting Our Future: Securing the Digital Domain Cyber Career Symposium.
The Uncharted Territory festival showcases a fusion of ideas, entrepreneurship and creativity from some of Canberra's most formidable minds and talents, and is a partnership with our innovation, tertiary and cultural sectors.
ACS Canberra continues to support the Canberra Cyber Hub through its collaboration on programs dedicated to driving growth and capabilities in Canberra's cyber ecosystem as well as ACS' representation on its Skilled Workforce working group by Rupert Grayston.
It was great to connect with several national organisations with head offices located in Canberra, as well as those working in the tech sector.
11 July: Member Forum on Blockchain
What do anarchists and regulators have in common? An interest in blockchain!
David Elliot of Agile Digital presented contemporary insights of blockchain to over 200 people as part of the hybrid ACS Canberra Member Forum. David spoke about the opportunities blockchain brings to smart contracts, digital identity, supply chain and IP protection, just to name a few applications.
It was a great discussion on the fundamentals of blockchain, its key benefits and criticism. He also spoke about the discussions at the recent Australian Blockchain Week event which was hosted by the ASX and attended by those two opposing groups – anarchists and regulators.
David also highlighted the SFIA skills can help navigate a blockchain career path, which was a nice segue to the presentations of Pradeep Ramamurthy's CP certificate as recognition and celebration of his achievement and commitment to professionalism.
About Australian Computer Society (ACS)
ACS is the professional association for Australia's ICT sector. Our purpose is to promote Australian ICT resources for Australia to be a world leader in tech. With over 48,000 members across the nation, ACS provides professional development resources and support, to help members in re-skilling or up-skilling needs to improve their professionalism.
There are four types of membership, starting with Associate (AACS) membership and progressing through to Fellow (FACS).
About the ACS Canberra Hub
The Hub is a custom-built collaborative space for members to drop by and use as a hotspot for meetings and events. Meeting room hire is also available to members and non-members.
Click here to find out more about the room hire rate or click here to book a room for your next meeting/event.