Canberra Branch news & activities update – February 2023
1 March 2023
Highlights
February was a busy month for the Canberra Team.
We engaged with over 500 University Students through our new initiative, "Student Engagement Program"
Onboarded over 550 new members and
Hosted six (6) events (in a combination of In-person, virtual and hybrid).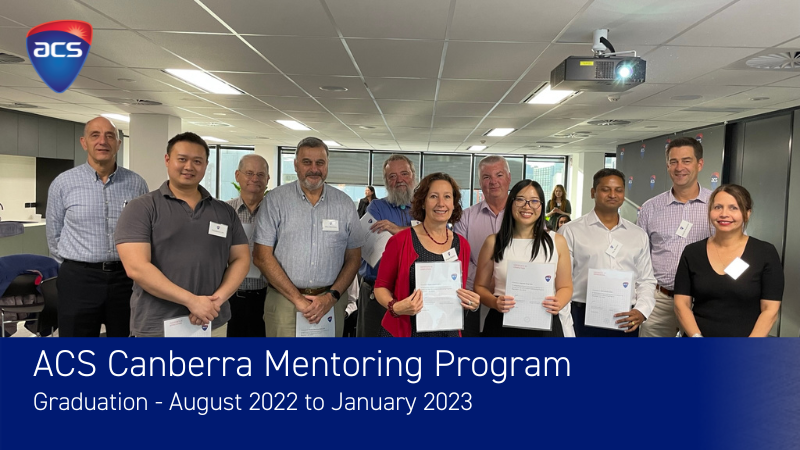 Something to highlight:
Data Science Series#1: Tips & Insights for Data Science Success on 28 Feb. We successfully hosted a hybrid event last night at the ACS Canberra Hub with over 300 virtual attendees and 20 in-person. Received a lot of positive feedback from attendees' comment on the relevant content and great speaker. Thanks to our guest speaker Dr Alex Antic for sharing his insights on "How to develop a successful, scalable, and sustainable Data Science capability in you organization".
Canberra Mentoring Program: In the beginning of August 2022, we started with a total of 66 participants (26 mentors and 40 mentees), 45 of them (21 mentors and 24 mentees) were graduated from this round of the program. Congratulations to those who completed the program.
The 1st round of the Mentoring program for 2023 was launched on 16 Feb and it is up and running again with 46 participants (including both mentors and mentees).
Some feedback we received:
"So many APS employees have benefited by joining the ACS mentoring program. This program is a highly professional structured program and provides high quality of learning opportunity for both mentees and mentors across the Australia Public Services. The program has very good mentors and delivers the high value / benefits to mentees." - Anonymous

"This was my first foray into a mentoring program and, though I signed up, was a little skeptical about the value. 6-months on and I am so very grateful to have had the opportunity. I came to realise that having a professional person who you could speak to, openly and honestly about what you were experiencing, and what you were aspiring to achieve, was invaluable. And to have that person be interested and willing to share a different perspective, fresh ideas, and a range of pathways for consideration was motivational - wow. Thank you ACS for facilitating, thank you James for agreeing to be my mentor, and thank you to the other professionals willing to give their time so freely." – Mentee
"The Canberra Mentoring Program is a great initiative, providing different perspectives and expanding your professional network. As a mentor it is satisfying to leverage one's experience and provide guidance to the bright minds of today! I recommend it to potential Mentors and Mentees alike." – Mentor
"The Mentoring Program was a great success. In a world where seemingly every piece of information can be Googled, there is still some knowledge that can only be gained through experience. Mentorship program is the best example of that." - Mentee
ACS & WIC consultation on 10 Feb: We hosted an amazing roundtable community consultation with WIC on the ACT Women Strategy Third Action Plan in order to prepare a joint submission to the ACT Government. A huge thanks to Sarah-Louise MacDonald (Canberra BEC member) for her help, WIC and to our event sponsor WORQ for their support. The attendees agreed that we should do more of these roundtables throughout the year.
Click here for a copy of the submission.