Canberra Branch news & activities update – March 2023
29 March 2023
Highlights
It's been another busy month for the Canberra Team.
We delievered six (6) in house events, connected or re-connected with many APS leaders
Participanted in four (4+) external events
Engaged with over 300 members & prospective members via phone calls, emails and events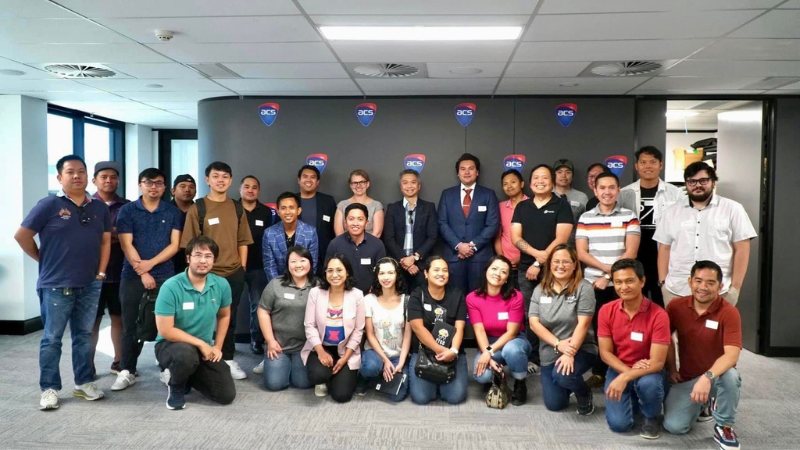 Something to highlight:
Cyber Security in practice
For the first time in its history, the ACS Canberra held a practical technical presentation on "Cyber Security in Practice" masterclass on 6 March 2023. Over 130 emerging talent professionals attended this half-day hybrid event.
Dr. David Ormrod, Director of McGrathNicol, shared his insights on building resilient information systems. Andrew Muller, Managing Director of Ionize Pty Ltd, provided a hands-on session on hardware hacking with a live demonstration.
The event was an eye-opener for many of us, as participants learned about governance and risk management principles and some of the principles of hardware hacking, including how simple it can be to find security vulnerabilities with electronic tools.
Click here to read and share the LinkedIn post.
Partners with UC Careers to secure the pipeline of tech professionals
On 8 March, while half of the ACS Canberra team was networking with our local Tech Community at the WIC International Women's Day lunch, the other half was out at the University of Canberra as part of its student engagement program. These Careers Conversation events brought Daniel Poignand and Tony Ly from Telstra Purple to campus to discuss issues, including lessons learned transitioning from study to work, graduate programs, career pathways and the importance of professional skills. The audience was utterly spellbound, and our guests did not get a chance to enjoy lunch because of all the engagement after the panel discussion.
Cracking the Code in Canberra
On International Women's Day, the ACS Canberra Team (Alex Rumsey, Stephanie Walkom, Sarah-Louise MacDonald, and I) celebrated and participated in the WIC luncheon event with our guests Colonel Kimberlea Juchniewicz, Director Recruiting, Army Headquarters; Tahali Thomas, communications officer from the Department of Defence and Vanessa Vartto, Partner Sales Director, Salesforce.

It was great to support women in ICT and raise awareness in cracking the code regarding gender equality; culture remains the number one issue in women's progression into senior leadership positions.
Click here to read and share the LinkedIn post.
Connecting with the Public Service
As part of building relevance and profile with the Australian Public Service (APS), ACS Canberra hosted its first Chief Data Officer forum on 16 March.
This CDO roundtable was led by Dr Alex Antic, participants shared their insights on trends and pitfalls in data leadership within the group. The five key lessons discussed were: "change", "people (including diversity)", "data science versus IT, value and alignment with strategic goals", "governance", "risk and ethics".
Some discussion points included attraction and retention of staff, including the use of contractors, career pathways and the need for specialist tracks, and data governance and the long tail of data literacy in the APS at all levels.
Excitingly, engagement was made between the participants and ACS Canberra and the Partnerships Team. We look forward to hosting more of those exclusive forums again in the year's second half.
Click here to read and share the LinkedIn post.
ACS Canberra supports grassroots tech communities
ACS Canberra had the privilege of hosting around 35 people from the Filipino Tech Community Canberra (FTCC) at its Hub on 18 March.
In line with its mantra that "ACS Canberra Hub is the meeting place for Canberra's tech community", the Branch has committed to supporting grass roots tech groups by offering its facilities.
The theme for the meeting was "breaking the glass ceiling" with several Filipino people discussing their experiences and tips on working in Australia.
Canberra Branch Manager Dr Vicki Gardiner also presented the findings and recommendations from the 2022 ACS Digital Pulse.
Click here to read and share the LinkedIn post.
Tech Community was using ACS Canberra Hub for their one-day workshop
Good news, the Canberra Hub had our first customer, AustCyber who hired the room for their one-day workshop and they were very saticified with the room space, facility and location.
The Hub is a custom-built collaborative space for members to drop by and use as a hotspot for meetings and events. Meeting room hire is also available to members and non-members.
Click here to find out more about the room hire rate or click here to book a room for your next meeting/event.