Celebrating Excellence – ACS Canberra Fellows presentation
8 Nov 2023
Highlights
Being a fellow of the ACS is one of the highest accolades given in recognition of distinguished contributions to the field of information and communications technology in Australia, and professionalism
ACS Canberra was pleased to be able to celebrate the achievements of two influential Canberran tech professionals at the ACS Leadership Series event held in November with the assistance of ACS Fellow Peter Lambert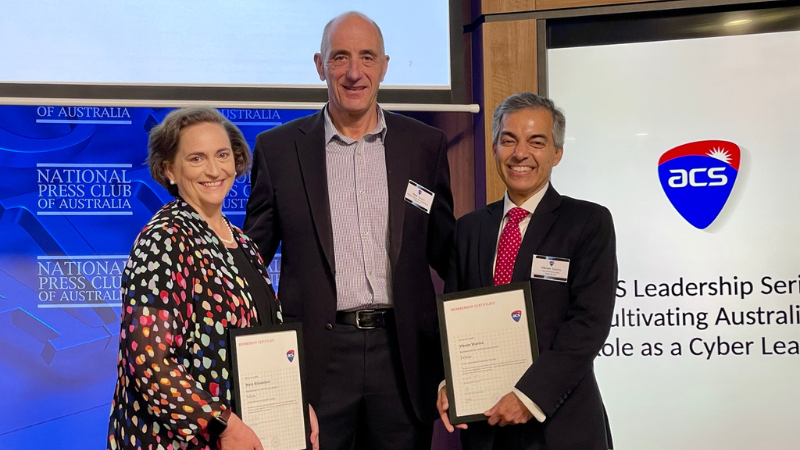 Dr Maria Milosavljevic is known for her expertise in AI-based data analytics, cyber security and data-based innovation processes within organisations of large scale.
Over the years, Maria has played critical roles in both state and federal government , most recently having being the inaugural Chief Data Integration officer at the Department of Defence where she successfully delivered the first Defence Data Strategy. Prior to this, she designed and established multiple new capabilities across government, creating leading edge analytics and AT technology, ang championed appropriate use of data across government. She is now the ANZ Bank's CISO and is responsible for ensuring the company's information security strategy continues to address the challenging cyber security landscape and supports the bank's digital transformation.
Maria is an Honorary Professor of Artificial Intelligence at the Australian National University. In addition to her PhD in Artificial intelligence, she also has an executive Masters of Public Administration and is a graduate of the Australian Institute of Company Directors.
Dr Vikram Sharma is the founder and CEO of Quintessence Labs, a Canberra based, 90% Australian owned organisation.
Vikram started this organisation with the purpose of building up on and commercialising research which strengthens cybersecurity against quantum computer enabled adversaries, who could in future crack extant encryption keys.
Since starting Quintessence Labs in 2008, Vikram has raised over $60 million in venture funding from prominent investors, and achieved produce deployments in over 10 countries including a dozen Fortune 500 organisations.
In his spare time, Vikram is a member of the World Economic Forum's global future council on cybersecurity and is a strong supporter of the emerging quantum technology industry, being a key driver behind the formation of the Australian Quantum Alliance under the auspices of the Tech Council of Australia.
Vikram is also a regular contributor to journals and conferences. His TED Talk on "How Quantum Physics can make encryption stronger" has over 1.2 million views and definitely shows how powerful a PhD in quantum physics, a Masters in Computing science and a Masters in Science (leadership) can come together to achieve great things.
ACS Canberra is looking to organise a panel discussion with Maria and Vikram on emerging technology and their impact on cyber security in 2024.
For full citations and information on the Fellow nomination process, please go to the ACS Hall of Fame website
About the ACS Canberra Hub
The Hub is a custom-built collaborative space for members to drop by and use as a hotspot for meetings and events. Meeting room hire is also available to members and non-members.
Click here to find out more about the room hire rate or click here to book a room for your next meeting/event.