Earn your ACS Certified Professional (CP) or Certified Technologist (CT) Recognition
19 July 2023
Highlights
"I believe the Certified Professional pathway is a distinguished recognition within the Australian ICT industry, and it's an important milestone in our professional careers. The strategic objective is to utilize my CP credentials to acquire, nourish and grow ICT acumen under the industry best practice remits and be able to mentor and support the upcoming talents in the industry under the ACS banner." Said Pradeep Ramamurthy, Systems Integration Manager, Northrop Grumman Australia, Defence Systems.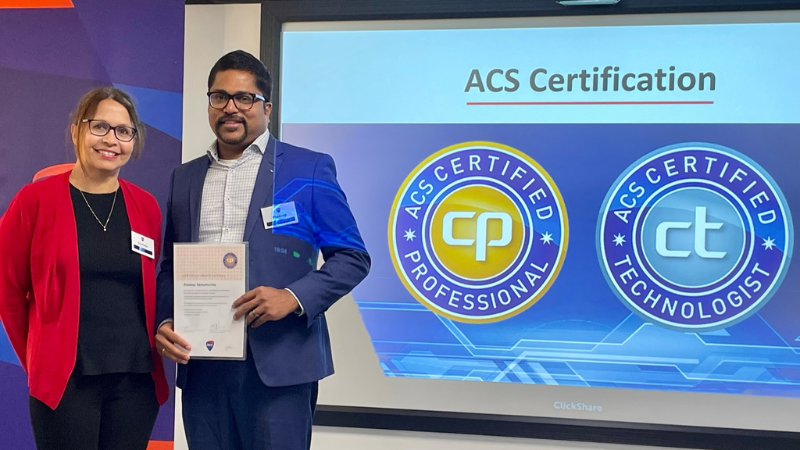 Are you an individual looking to stand out from your peers, or a company looking to employ ICT staff that are trusted ICT Professionals?
We suggest you should consider ACS Certification:
Certification demonstrates your professional or practice-based experience and expertise.
Certification is way of demonstrating you are maintaining currency in your profession through CPD.
ACS Certification is a validation of your knowledge, skills and experience
One of the ACS' unique products or professional services is the Certification. ACS Certification provides official recognition to individuals as an ICT professional and is the same recognition that is afforded to other professional disciplines within their respective industries such as accounting, engineering, and law.
The ACS acknowledges there are a multitude of professional or vendor certifications that are usually made to those who have achieved qualifications specified by a certifying authority. Most of these certification programs are oriented toward specific technologies and are managed by the vendors of these technologies. These certification programs are tailored to the institutions that would employ people who use these technologies.

ACS Certification differs as it provides official certification and recognition of competency to potential employers, rather than relying on references or test results. The Skills Framework for the Information Age (SFIA) is a common framework which allows an international understanding of what an ICT role actually involves and identifies the skills required. SFIA has been adopted by the ACS, as well as other professional societies and organisations, and provides a foundation for the professional grades, accreditation and programs of the ACS.
Certification with the ACS encompasses an individual's knowledge, skills, and attributes assessing qualifications right alongside work experience and communication skills. In essence, it levels the playing field for ICT professionals. On staff at an international firm or regional small business, it doesn't matter - the pertinent currencies are skill and experience.
For more information about ACS Certification please visit - https://www.acs.org.au/professionalrecognition/certification-landing-page.html

About Australian Computer Society (ACS)
ACS is the professional association for Australia's ICT sector. Our purpose is to promote Australian ICT resources for Australia to be a world leader in tech. With over 48,000 members across the nation, ACS provides professional development resources and support, to help members in re-skilling or up-skilling needs to improve their professionalism.
There are four types of membership, starting with Associate (AACS) membership and progressing through to Fellow (FACS).
About the ACS Canberra Hub
The Hub is a custom-built collaborative space for members to drop by and use as a hotspot for meetings and events. Meeting room hire is also available to members and non-members.
Click here to find out more about the room hire rate or click here to book a room for your next meeting/event.