Evolutioned Partners with ACS
21 Jun 2023
Highlights
Evolutioned partners with ACS to address Australia's ICT skills gap as part of the Professional Partner Program (PPP)
Australia is in a skills gap crisis, and Evolutioned aims to help organisations optimise their existing workforce to bridge the skill gap
Evolutioned combines leading research with lived experience to equip the industry with profound capabilities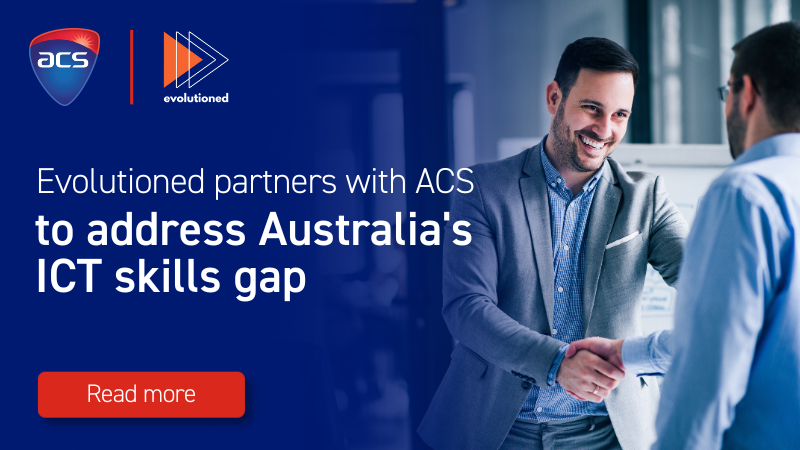 Evolutioned is adding a new pillar to the traditional attempts to close the skills gap:
"The research from industry giants like Google and Gartner is clear. Outdated practices and a lack of psychological safety in ICT teams results in suboptimal performance. We can close much of the skills gap by addressing these and maximising the potential of the existing workforce," says Joel Madden, CEO of Evolutioned. "Our partnership with the ACS will help us to address this challenge and ensure that Australian businesses succeed by making the most of their current ICT talent."
The ACS is committed to helping address the ICT skills gap in Australia, and this partnership with Evolutioned will help us to achieve this goal by providing organisations with the opportunity to upskill their current workforce, as well as attract and retain new ICT talent.
The partnership will focus on two key areas:
Equipping the existing ICT workforce with new, profound capabilities: Evolutioned will provide its unique value proposition to help organisations unlock the potential of their existing ICT workforce. This will include professional growth and extension experiences and programs, as well as coaching and mentoring opportunities.
Enabling new ICT talent with profound capabilities: Expanding industry led learning with the tertiary and vocational education system to give students deep industry readiness and employability.
About Evolutioned
Evolutioned's unique value proposition equips organisations with the capabilities they need to unlock the potential of their existing talented workforce. Click here to find out more.
About Australian Computer Society (ACS)
ACS is the professional association for Australia's ICT sector. Our purpose is to promote Australian ICT resources for Australia to be a world leader in tech. With over 48,000 members across the nation, ACS provides professional development resources and support, to help members in re-skilling or up-skilling needs to improve their professionalism.
There are four types of membership, starting with Associate (AACS) membership and progressing through to Fellow (FACS).
About the ACS Canberra Hub
The Hub is a custom-built collaborative space for members to drop by and use as a hotspot for meetings and events. Meeting room hire is also available to members and non-members.
Click here to find out more about the room hire rate or click here to book a room for your next meeting/event.