Introducing the Data and Digital Government Strategy
5 July 2023
Highlights
The Australian Government has released the first combined Data and Digital Government Strategy
The Data and Digital Government Strategy sets the vision to 2030 for how the Australian Government intends to utilise data and digital to improve the entire spectrum of its activities
The strategy is out now for consultation, and you can have your say until 25th of July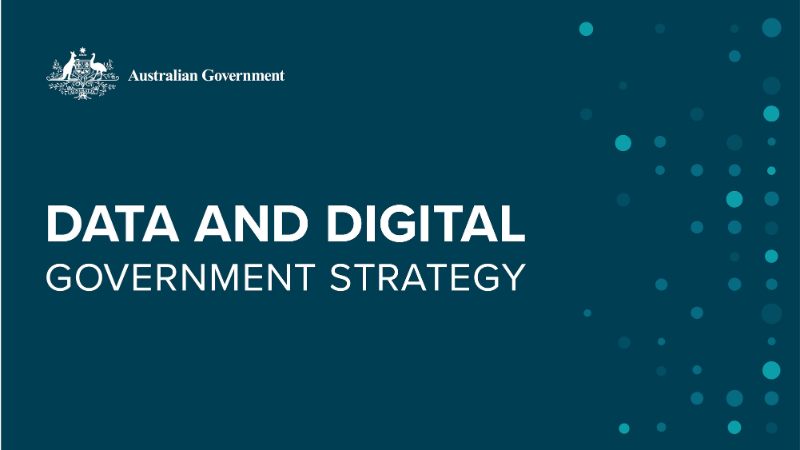 The Australian Government recently released the Data and Digital Government Strategy for public consultation. The Strategy outlines the Government's vision to deliver simple, secure and connected public services for all people and business through world class data and digital capabilities by 2030. This represents the first time that data and digital have come together in the one strategy by the Australian Government.
Building on the Australian Government's commitments to a number of key reforms such as the APS Reform agenda, the Cyber Security Strategy 2023-30, the review of the Privacy Act 1988, as well as the myGov User Audit; the Strategy will form a key point of focus in shaping the Commonwealth's actions, priorities, and investments in the data and digital space.
Specifically in the context of industry and innovation, the Strategy provides a focus to the Australian Public Service by guiding and enabling technology investment across Agencies, positioning them to adopt emerging technologies through updated funding models.
Through reform and investment in data capabilities, the Strategy will support better data sharing between entities, including across Agencies and Jurisdictions with State and Territory Government, as well as Academia and industry, to inform policy and service designs which are evidence based and place people and business at the centre.
The Strategy also provides a focus and mechanism for further capability investment into the APS's data and digital workforce, a critical component needed to shape and deliver Commonwealth services of the future.
As part of developing the final version of the Strategy and the Implementation Plan, we are seeking a diverse range of views to ensure the Strategy can meet people and business' needs and expectations. In addition to engaging with the APS and State and Territory Governments, we are also encouraging members of the public, industry and academia to share their thoughts. You can have your say by completing a survey or uploading a written submission through the portal until the 25th of July at https://www.dataanddigital.gov.au/have-your-say
We are also hosting a number of APS specific information sessions. If you are a member of the APS and interested to know more about these, please reach out to the Digital Strategy Mailbox for more information digitalstrategy@dta.gov.au.
For further information about the Strategy, including to download a copy or go to the feedback page, please visit www.dataanddigital.gov.au.
About Australian Computer Society (ACS)
ACS is the professional association for Australia's ICT sector. Our purpose is to promote Australian ICT resources for Australia to be a world leader in tech. With over 48,000 members across the nation, ACS provides professional development resources and support, to help members in re-skilling or up-skilling needs to improve their professionalism.
There are four types of membership, starting with Associate (AACS) membership and progressing through to Fellow (FACS).
As a member of ACS, you can use MySFIA to identify your skills gap and compare your skills against the internationally recognized SFIA Framework. SFIA is a global ICT skills framework tool that enables you to identify ICT skills and capabilities.
ACS professional certifications are technology agnostic, recognising transferable skills and competencies. Once certified, members must comply with the Code of Ethics, Code of Professional Practice and Continuing Professional Development (CPD).

ACS Learning accelerator - free courses available to members only
About the ACS Canberra Hub
The Hub is a custom-built collaborative space for members to drop by and use as a hotspot for meetings and events. Meeting room hire is also available to members and non-members.
Click here to find out more about the room hire rate or click here to book a room for your next meeting/event.