Reimagining justice through a technology platform lens
13 Sept 2023 | Content provided by Robert Bollard PSM | Industry Principal Public Sector APAC,
Pegasystems
Highlights
The current state of justice systems around the world unfortunately remains fragmented and inefficient. This leads to disparities in access to justice, delays in resolving cases, growing costs to maintain the system and inconsistent outcomes. It is time to better embrace technology and build an intelligent, unified, reusable justice platform to make justice outcomes fairer, smarter and more effective.
The justice sector can benefit from new technology thinking underpinned by a few key elements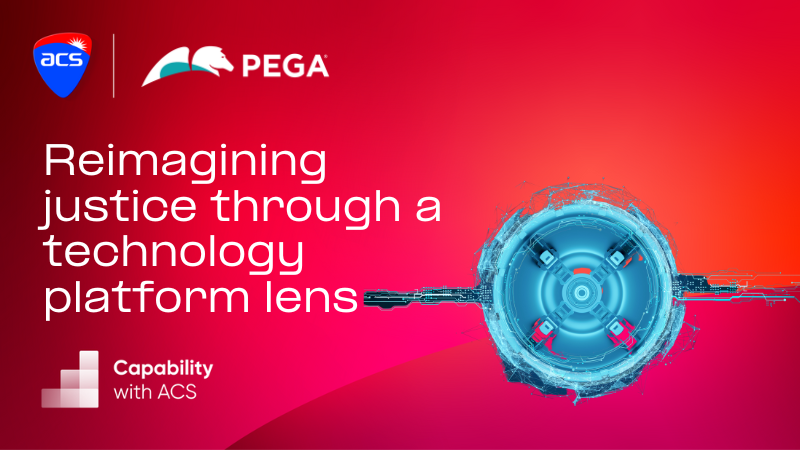 The traditional justice system faces numerous challenges that adversely impact its ability to deliver justice effectively. First and foremost, it is driven by an overwhelming number of administrative inefficiencies, manual processes, old siloed applications, and a disconnected justice ecosystem. It is also apparent that the situation is significantly impacted by complexity and a growing need to orchestrate across the ecosystem including government, not-for-profit and private sector to shape better outcomes for all.
Consequently, there are considerable delays, challenges, and backlogs that are causing unnecessary hardships and adversely impacting efficiency and effectiveness in the long term.
In the current justice landscape, the lack of co-ordinated data and applications makes it difficult for the entire justice ecosystem including legal professionals to access relevant information quickly and drive out clear and actionable results.
The effect of this leads to an incomplete understanding of cases, resulting in inconsistent judgments as well as a missed opportunity to reimagine the justice system. Through holistic intelligent decisioning, workflow orchestration and strong case management - new approaches can be shaped to drive better outcomes.
From my experience, the justice sector can benefit from new technology thinking underpinned by a few key elements:
Deliver results by harnessing an industry leading case management and workflow automation platform that will support more streamlined, digitized and connected services designed around the citizen and desired outcomes. One that not only drives greater efficiencies but orchestrates the complexity of people and processes whilst supporting auditability of decision making and transparency of actions.
Work smarter and shape more consistency by leveraging responsible AI decisioning and automation to support greater efficiency and effectiveness. Reduce the burden of unnecessary repetitive manual tasks, build trust and empathy, drive more consistent evidence-based decisions supported by accurate and timely information. Shape robust decisioning with a foundational justice data lake to deliver insights and action for an informed and reimagined approach to justice.
Build for change by leveraging reusable components to build faster, reduce cost and share common capability. Architect and build common accelerators, risk engines and microservices that maximise reuse across the unified platform.
Deliver value fast by adopting an agility layer approach to wrap around your existing technology stack. Inherited complexity and costs of modernisation are often the enemy of transformation especially in challenging budget environments. Adopting an iterative approach based on value underpinned by a platform that flexibly buffers from legacy risk. This drives an ability to deliver more value faster from your current investments and reinforces choice shaped by agency circumstances and desired architectural end state.
Leverage a low code platform to build fast. Allow the voice of the citizen, staff and technology to collaborate and innovate to shape solutions, solve problems faster and more seamlessly support change. Democratise technology, support new career pathways to drive successful change management and position justice agencies to better adapt to reimagined digital futures.
Drive secure, scalable infrastructure and continuous delivery approaches to support faster value and building of trust.
New Jersey Courts (NJC) is a leading light in this space implementing a reusable justice platform, streamlining operations, improving efficiency, and enhancing user experience. Their successful journey enabled significantly faster case processing (89% reduction in defendant processing time), reduced errors, real-time decision support through their Public Safety Assessment application and facilitated better access to legal services, ultimately enhancing the overall judicial system for all stakeholders involved.
New Jersey Courts also saved $10 million by identifying 18 common use cases and reusing those processes across all its court systems with a unified platform. This means common processes such as scheduling and payment processing used by the various courts from criminal to civil, and family courts, can be reused. As a result, the agency was able to reduce development time by 10,000 hours and drive efficiency in the longer-term Total Cost of Ownership (TCO).
An intelligent reusable justice technology platform holds immense potential to transform the justice system to make it more efficient, fairer, and stronger. By adopting new approaches, we can build a future together where justice is empowered and connected by technology to better shape the justice lifecycle and deliver better outcomes for all.
Contact Pegasystems today to find out how the team can collaborate on developing technology platforms and innovative solutions for you.
About the ACS Canberra Hub
The Hub is a custom-built collaborative space for members to drop by and use as a hotspot for meetings and events. Meeting room hire is also available to members and non-members.
Click here to find out more about the room hire rate or click here to book a room for your next meeting/event.