An update from the Chair, Peter O'Halloran, ACS Canberra
15 March 2023
Highlights
To help you get more out of your membership, we want to introduce ourselves and what we do, so you can connect more with us.

This week, we share the an update from the Chair, Peter O'Halloran, ACS Canberra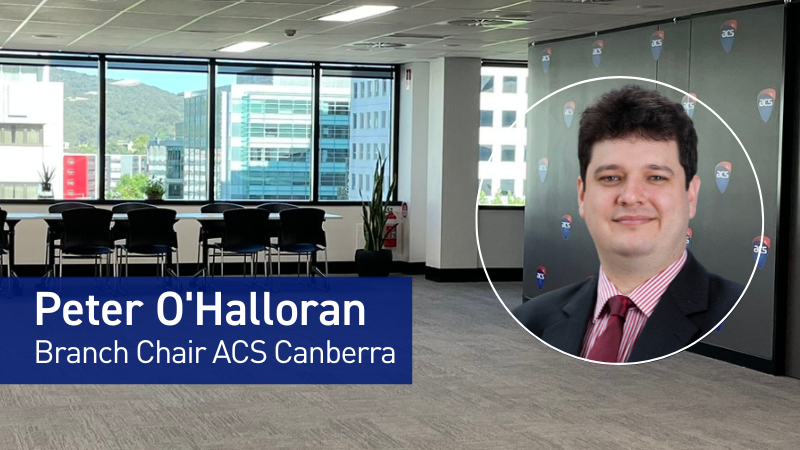 With 2023 already well underway, the ACS Canberra team have been working hard to further improve the services and support provided to members of the Australian Computer Society. The great news is that I can now share some of the outcomes from this work with you.
Canberra Hub
Following its official opening in December 2022, the ACS Canberra Hub is now regularly home to many events and gatherings and is fast becoming the place in Canberra where members of the ACS and like-minded organisations can gather physically to discuss matters of mutual interest.
Located in the heart of Civic at 64 Northbourne Avenue (with the entrance in Bunda Street), the Canberra Hub is now available for members to drop in if you need a quiet place to catch up on some work or perhaps a central venue for a quick meeting.
Further information on the Hub's facilities and the arrangements for using the space can be found by click here. Alternately, please do not hesitate to reach out to our office at acs.canb@acs.org.au or (02) 6143 5503 to seek further information or to make a booking.
Events
One of the lasting (positive) impacts of COVID-19 is the recognition that we can't always come together for events and that there is an ongoing place for hybrid events (encompassing both face to face and online modes) for members.
The majority of our events in Canberra will now be conducted as hybrid events, opening them up to all members. Whilst coming together face to face is often the best way that we can communicate and network – it is not the only means and wherever possible, our events will be hybrid.
Our events are one of the key benefits of membership of the ACS. As such, the majority of our events (excluding conferences, breakfast/lunch events etc) will now be free to all members. No more charges for members to attend. I hope that this will open up our events to more members and ensure that each of us continues to derive value from our ongoing membership and participation in the ACS.
We are also implementing a 'bring a friend for members price' for our events moving forwards. For most events, this will enable each of us to bring a colleague and/or friend along to an event to enable them to also see what a great group the ACS. Hopefully they will like the event so much, they may even consider becoming a member. More information on this will be circulated soon.
Elections
A number of positions on the Canberra Branch Executive Committee will be coming up for election in the coming weeks. I encourage you to keep an eye on your ACS emails and consider joining the Committee.
Peter O'Halloran

Chair, Canberra Branch Executive Committee